A buddy asked me to lunch last week and 'cause lunching is pretty much the best thing ever, I said yes.
He recommended Sintra. Wha? That place downtown that is European feeling and cool, but I always forget about? Sure!
It was sweet. I had a cup of their dark, strong coffee, but you can make it a boozy lunch with beer, wine or a variety of other beverages. People were hanging around reading newspapers and drinking their own strong coffee. All that, plus the brick walls and large old Europe photography gives it a feel no where else around here has.
Then the food came.
The Portuguese Chicken Stew
I was super jealous of my friend's Portuguese chicken stew. It was loaded with shredded chicken, white beans and roasted green chiles, then topped with Mozzarella cheese, a thin drizzle of sour cream and some sliced green apples.
I had the Sintra version of a club with thick great bacon and juicy red tomatoes. But I was happiest with the wilted spinach salad. Sauteed red onions, mushrooms, goat cheese and a honey tomato dijon dressing. Wanted more.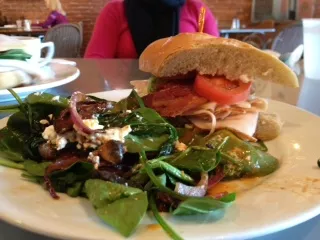 Club with Wilted Spinach Salad
Then we had cookies. Better described as a chocolate chip platter than a cookie, it came all warm and melty and dusted with powdered sugar. Notice the baby fork. I used it. Not sure that's authentic Europe there, but it was fun anyway.
Warm and melty chocolate cookie
So, Cafe Sintra. Something different right downtown.