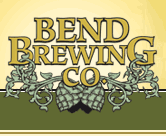 Bend Brewing Company is new serving booze! And the good stuff, too.
The brewery announced last month that it will now be offering a specialty cocktail menu alongside their lineup of award-winning beers.
In fact, you can actually now have a cocktail made with award-winning beer.
Among the new offerings is a Ching Ching Zinger made with their sour ale (see this week's write up on the Ching Ching here), Crater Lake Vodka and strawberry lemonade.
They're doing lots of other cocktails with local liquors like Crater Lake, too. One of those is a bloody with a bacon-salted rim, just FYI.
In other BBC news, they are now doing $8 lunch specials.
We have a special place in our heart for that little brewery and we're happy to see them keeping it fresh with the new drinks and specials.