A
s the snow drifts outside the frosty window, what could be more appealing than curling up by the fire (or space heater) in cozy holiday pajamas to lose yourself in a good book?
Reading is the perfect, low-cost activity that both young and old can enjoy together.
Broadening a child's worldview and exposing them to new ideas are a few of the benefits of a good book. If indeed "reading is an exercise in empathy; an exercise in walking in someone else's shoes for a while," as Children's Laureate Malorie Blackman says, then these books offer young readers a chance to go for a walk!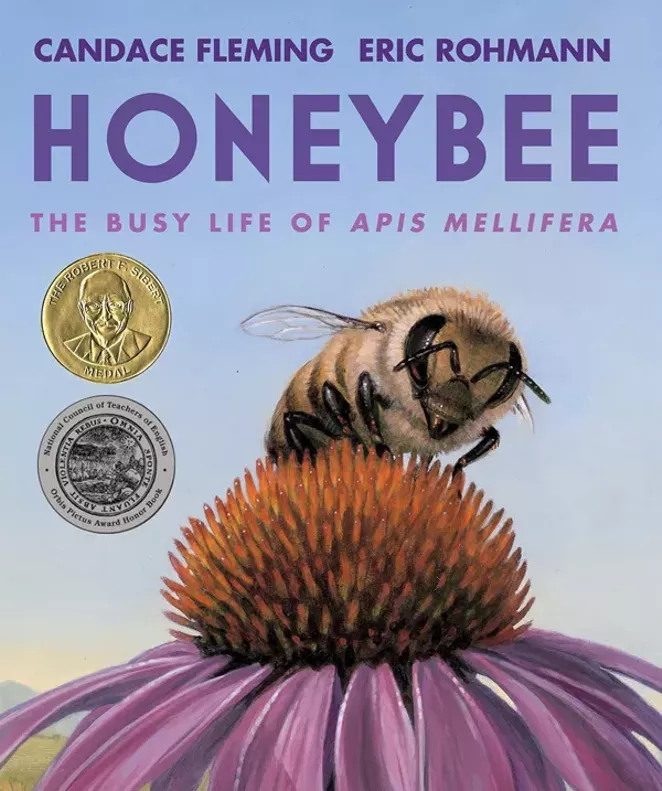 ELEMENTARY
HISTORICAL FICTION
"The Oldest Student: How Mary Walker Learned to Read," by Rita Lorraine Hubbard and Oge Mora

In 1848, Mary Walker was born into slavery. Freed by age 15, married with her first child by age 20 and still actively working and raising money for her church by age 68, Mary Walker was illiterate. Over her long life she had worked numerous jobs, from cooking to cleaning, babysitting to selling sandwiches, but she did not know how to read or write. At the incredible age of 116 years old, she decided to change that. At 116 years old, Mary Walker learned how to read. This stunning biographical picture book takes readers on a journey from the Civil War to the civil rights movement, told through the eyes of a woman whose perseverance and dedication prove that you're never too old to learn something new.

NATURAL SCIENCE
"Honeybee: The Busy Life of Apis Mellifera," by Candace Fleming

In this award-winning illustrated nature book, a tiny honeybee's hard work and dedication to her hive introduce young readers to the life cycle of apis mellifera (aka: honeybees). After waking up in the morning in her little wax cell, Apis begins her day by helping to clean the hive nursery, feed the larvae and queen bee and build wax combs to store honey. She longs to fly alongside the other bees, but isn't quite ready, so instead she stays behind to transfer the pollen they collect into storage and to defend the hive from invaders. Finally, one day when she is strong enough to fly, Apis emerges joyfully from the confines of the hive and takes to the sky in search of nectar. Written in poetic, accessible language, this beautiful story brings natural science indoors for young readers to explore.

REALISTIC FICTION
"I Talk Like a River," by Jordan Scott, illustrated by Sydney Smith

In this beautiful and poignant elementary-age picture book, a young boy narrates in first person a glimpse into his world of dysfluency, otherwise known as stuttering. He imagines the fearful terrors bound to occur at school and the intense solitude engendered by his classmates. Fortunately, he has a loving and understanding father who knows all about what it's like to experience a "bad speech day." Together, father and son take a special trip to the river, where he discovers that his speech ebbs and flows like the rushing sounds of the water—he talks like a river. With this sparkling new understanding in place, the boy returns to school with a newfound sense of peace and self-acceptance.

TEEN
FANTASY "The Song of the Lioness," by Tamora Pierce

Published in the 1980s, at a time when most fantasy series like "The Lord of the Rings" featured predominantly male heroes, Pierce brought to life a strong, intelligent female protagonist who isn't afraid to defy the gender norms of her society. Born to a noble family in the kingdom of Tortall, Alanna despises traditional feminine pursuits and has no desire to get married to a stuffy lord. Likewise, her studious twin brother, Thom, is equally unhappy at the prospect of training to become a knight and would much rather study magic instead. Together, they hatch a plan to switch places, as Alanna heads to the palace disguised as a boy named "Alan" to pursue her dream of knighthood. In interviews, Pierce explained how Alanna was written to be gender-fluid, before this term was well-known in our society. This empowering series has won numerous literary awards and is a must read for every fantasy lover.

COMING OF AGE
"The Perks of Being a Wallflower," by Stephen Chbosky

Set in the early 1990s, this beloved coming-of-age novel follows an introverted, observant teenage boy named Charlie as he navigates his first year of high school in a Pittsburgh suburb. Based on his own vivid memories of what it felt like to straddle the world of adolescence and adulthood, the author crafts a poignant and heart-rending story that will stay with the reader long after the last page. Fair warning though, this novel does not shy away from difficult themes related to adolescence, from sexuality and drug use to mental health and sexual assault. Like other canonical classics in this genre, such as "Catcher in the Rye" and "Speak," "Wallflower" has earned "banned" status in some American schools and libraries for its controversial content. Overall, however, the teenage protagonist's unique narrative style and unconventional thinking bring a compelling, mature and refreshingly honest look at these themes. It's a wonderful read, but we recommend waiting until your middle school aged teen is in high school before introducing this one.