For many gardeners, January is a great time to start thinking about next season's garden. A horticultural support organization, Direct Gardening Association, declared January as National Mail Order Gardening Month in order to reinforce this planning concept. Gardeners have probably already been receiving mail order catalogs to peruse for plants to grow and to place a seed order.
This isn't some new marketing ploy, as the first printed seed catalog in the U.S. was produced by Mr. B.K. Bliss and Sons from Springfield, Massachusetts, in 1853. The W. Atlee Burpee and Company, founded in 1873 in Philadelphia, is often credited with germinating the concept of ordering seeds by mail.
National Seed Swap Day, Jan. 28, is another "holiday" to sow excitement for the upcoming growing season. Though no public celebrations of this day have been announced in Central Oregon, check with your gardening group to see if something is sprouting.
In addition to planning for vegetable gardens in January, this is also a great time to start thinking about flower beds and the addition of native plants to your garden — and, perhaps, thinking about removing some lawn.
"Each wild plant has its own set of growing parameters and many species need some form of winter stratification or period of cold and moist conditions to germinate," said Yvonne Babb, land steward and owner of Your Garden Companion. Those parameters may include roughing up or soaking of the seed coat in order for the seed to germinate. Some seeds may need to pass through an animal's gut or be scarified by fire. "The USDA Plant Database is my go-to for the specifics on native seed propagation," said Babb.
Starting seeds may be a challenge, but some do really well.
"Milkweed is a popular one for monarch butterflies," said Rick Martinson, executive director of Worthy Environmental. "Other species good for pollinators include scarlet gilia, Indian blanket, any of the buckwheats and many of the ray-flowered plants such as fleabanes." Seeds for these and other species are available at Worthy Brewing or Wintercreek Nursery.
The call to plant native plants centers upon these plants being adapted to local soils, climate and pollinators where they naturally occur. Ornamentals, cultivars or non-native plants may be showy but may contribute little to promote pollinators or to serve as an important food resource for birds: caterpillars.
Doug Tallamy, an entomology professor at the University of Delaware and author of "Nature's Best Hope: A new approach to conservation that starts in your yard," advocates for including host plants for moth and butterfly caterpillars in one's garden, which provide an incredible food resource for nesting birds, especially baby birds which cannot digest seeds or berries at a young age. Gardening for caterpillars may seem like a paradigm shift for gardeners, but it ties in with creating a healthy habitat for humans and wildlife.
Along with planning and researching native plants suitable for your landscape, Tallamy and many other native-plant enthusiasts encourage gardeners to shrink the size of their lawns — not total removal, because some lawn is nice to have.
"Every square foot dedicated to lawn is a square foot that is degrading local ecosystems," Tallamy writes in his book. Lawns contribute little to the local food web and should be viewed more, "...as an area rug, not wall-to-wall carpeting."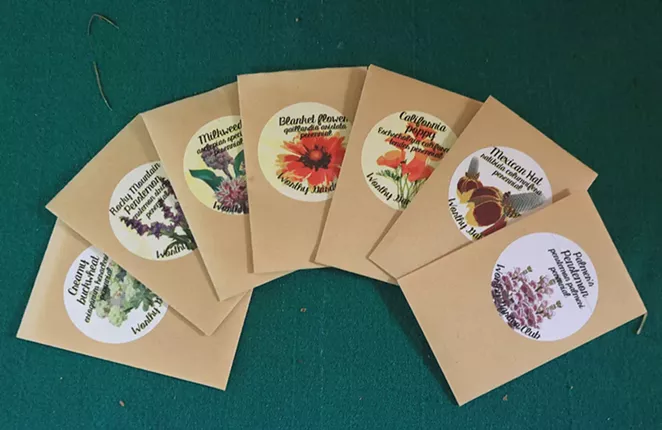 Gardeners can replace lawn with trees, shrubs or wildflowers that nurture nature and which require less water and maintenance than a lawn. Another good database for researching plants native to Central Oregon is the native plant finder on the National Wildlife Federation's website, nwf.org.
One plant that is hard to find is cow parsnip, a native plant and member of the carrot family. Large umbels of white flowers attract bees, beetles and flies as pollinators while caterpillars feed on the large, palm-shaped leaves. Every summer I collect seeds from these plants and sow them in other hard-to-grow areas in the yard.
"Remember, right plant, right region, right spot," said Babb. "The closer the seed source to your native homeland, the closer you are to success."
Adaptation to climate change will be a challenge for some plants but an opportunity for others as they expand their range. But trying to determine which plants to grow to meet those changes will have to wait for a future January day, poring over some mail order seed catalogs.