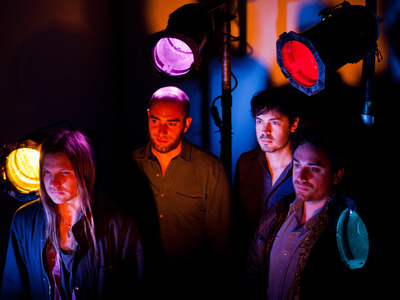 Looking for something to do this weekend? The upcoming music lineup is looking mighty fine with a little something for everyone coming to town in the next five days.
Tonight, locals Tone Red will be at Silvermoon Brewing with their country-rock and soothing female vocals. 9pm. Also tonight, English indie rockers Scars on 45 will be bringing their pop jams to the Century Center, we and guarantee you'll recognize their music from the background of a generic TV drama you've watched recently. 7pm.
During the day on Saturday, Bend Pride will have a great lineup of local musicians celebrating culture and diversity in our community, not to mention food vendors, family friendly events and libations sponsored by Absolut Vodka. The event will take place in River Bend Park and the day's schedule is as follows:
12pm-12:40pm Spoken word from Jason Graham of MOsley WOtta
12:45pm-1:15pm Jumpin' Joyce Respress
1:30pm- 2:10pm Sons of Dirt
2:15pm-3:15pm All You All
3:30pm-5pm Jaccuzzi
5:15pm- 6pm The Rural Demons
Saturday night, Portlanders Hopeless Jack (Jack Beisel) and the Handsome Devil (Peter Thomas) will be rocking the Horned Hand with their sexy, gritty tunes in the style of old time blues purists mixed with contemporaries like The Black Keys. Locals The Kentucky Longrifles open the show. 8pm.
Sunday afternoon, Poor Moon, a collective of indie rockers of Fleet Foxes fame will be playing their brand of finger picking ambient country-folk at the first Summer Sunday concert at the Les Schwab Amphitheater. The best part is it's FREE! 2:30pm.
Sunday night, Mickey Avalon brings his outrageous rap based on his outrageous lifestyle to the Midtown. If you've ever wanted to write a song about the merits of your dick then Mickey Avalon may very well be your hero. 7pm.
Monday is the two-year anniversary of everyone's favorite late night snack stand, Dump City Dumplings. They'll be bringing Strive Roots reggae music to the Century Center with all proceeds going to the non-profit Truck Stop Skatepark. 6pm.
There it is folks, a weekend of fantastic music in Bend, OR. Get off your butts and treat your ears to some fantastic live tunes.