Before we go any further, here's some important advice: save room for dessert at Scoutpost.

If you've eaten at the cart, located in the Spoken Moto food pod, chances are you're already drooling at the mention of its name. The food is so craveable, it had to be the Source's 2018 food cart of the year.


I waited until my second visit to try their donut holes and I should have eaten them sooner. The donuts are light and fluffy, coated with sugar and served with two dipping sauces: Metolius chai cream and caramel. They're divine and shouldn't be missed.
You can't go wrong with anything you order at Scoutpost. Even the simple fried new potatoes with spicy aioli, smoked paprika, garlic and parmesan will leave you thinking about that hint of sweetness in the potatoes and the crispy edges all day.
A family of chefs, Will Forbes, his sister Brittaney MacFarland and her husband Doug MacFarland—also the Executive Chef at Brasada Ranch—opened Scoutpost in September 2016.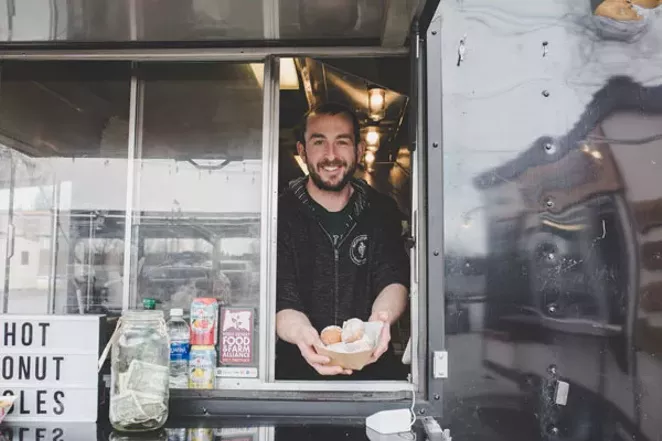 Scoutpost started, "after a year of backyard conversations. It just seemed to make sense to open a food business when you have so many chefs in a family," said Brittaney. "We also wanted the freedom that comes when you work for yourself. Will wanted to be able to cook the food he wanted, and I wanted to be able to do the same.
"The idea was to have fun and keep the food evolving."
The food has indeed evolved. When they started, they served sandwiches made in a tandoor—a wood fired oven—but now they've mixed things up. During my last visit, the menu included a juicy burger, a cauliflower and chickpea sandwich, salad and soup. Their brunch has become so popular they added a few breakfast items to their daily menu, including a breakfast sandwich with a house-made English muffin.
Will and Brittaney, who both worked in fine dining, bring the value of making everything from scratch to their food truck. Brittaney said, "we make 95 percent of everything we serve in house. Regardless of what is on the menu, you know it was made by us, from the heart with a lot of intention."
The future looks bright for Scoutpost. With a loyal following at Spoken Moto, the trio plans to expand this summer. Their second trailer will be Scout's mobile refresher donut hole and ice creamery. "Ice cream making has been a passion of mine since I started in the pastry business and I'm really excited to share that with Bend," Brittaney says. Aside from scoops, the team plans to make sundaes, ice cream sandwiches, floats, pies and other frozen novelties.
Scoutpost
310 SW Industrial Way, Bend
scoutpostbend.com
541-904-5005