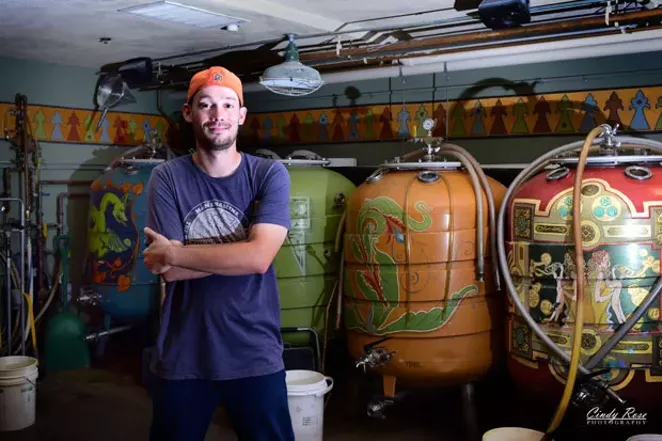 It may very well take a city like Bend to come up with an event that combines specially-crafted beers, primate conservation and lectures on "Bigfoot culture" in one place. (This is not a bad thing.)
Somehow, craft beer and Sasquatch folklore have become heavily intertwined, especially here in the Northwest. Olympia Brewing sells 24-ounce "Bigfoot" cans of its beer and, in 2013, offered a $1 million reward for the "safe return" of the elusive cryptid. The Yeti from Denver's Great Divide Brewing has been one of craft beer's most consistent imperial stouts, coming in a bunch of variants including oatmeal, chocolate oak barrel-aged and the nitro-only "velvet" version. And Sierra Nevada has been releasing the Bigfoot barleywine-style ale in bottles every year since 1983, with some of the cult hit's older vintages still passed around among beer traders.
This Saturday, though, the connection will become a bit more literal in the form of the Bigfoot Bolt and Brews Tour, which kicks off in the morning at McMenamins Old St. Francis School and includes events at the Deschutes Brewery production facility and Deschutes Historical Museum. It's both a speaking event and a fundraiser for Chimps Inc., Central Oregon's own chimpanzee rescue. Featured speakers include Cliff Barackman of Animal Planet's "Finding Bigfoot," as well as Derek Randles of the Olympic Project, who first saw the big guy in 1985 and has been researching them for nearly three decades.
Some skeptics out there might want to have a couple of stiff drinks before they're prepared to open their minds to the existence of our large, hairy neighbors. The Bolt and Brews Tour has everyone covered there, of course.
The Old St. Francis School will provide Fuzzball, a brown ale with an interesting history. The brewer at the Bend McMenamins is Vance Wirtz, who originally produced this ale as part of a pro-am series back when he was still just a homebrewer. It originally debuted under the name Dasher and Dancer Brown, but now it's back, Bigfoot-inspired, and ready to help you believe. (Wirtz is producing a lot of neat stuff over at McM's these days; local beer fans who've lapsed on them for a while should give them another try.)
Over at Deschutes' downtown location, meanwhile, visitors will get to grab Squatch Grog, a double IPA devised by Assistant Brewmaster Robin Johnson for the event. Johnson just got done co-crafting Wolfgang's Vintage Vienna Lager with Boneyard Beer's Tony Lawrence for Deschutes' 30th-anniversary events, and as good as that collaboration was, this IPA's bound to knock it out of the park as well. (Deschutes, by the way, is getting busy with tie-ins on a national level, too; they're producing the FFL IPL (Indian pale lager) for the Western U.S. locations of Buffalo Wild Wings, one of five breweries making special beers for the chain's fantasy football draft-party promotion.)
The beers will be available to anyone at McMenamins or Deschutes; visit Eventbrite.com to get tickets to the speaking events.