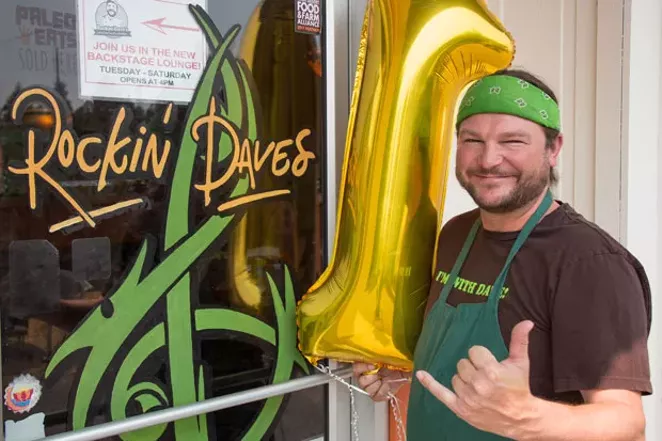 Whether you're looking for the best bagels in town or delicious sandos with house-braised meats, Rockin' Dave's Bistro & Backstage Lounge can't be beat.
They also cater to the vegan and gluten-free crowd. (You can find the menu online at rockindaves.com—I know ya'll like to plan ahead.) The highlights: a vegan breakfast burrito and gluten-free taco specials.
Looking for a bagel recommendation? Owner Dave Flier suggests the BOS Bagel (bacon, onion and Swiss cheese) or the Jalapeño Cheddar Bagel with Sriracha and cayenne. Flier says he strives to push his menu "beyond the bagel," with a focus on locally-sourced, organic ingredients and breakfast and lunch specials based on a different theme each month.
"I was raised next to farmers. My goal is to pretty much make everything," says Flier. "We make literally everything in house—people taste the difference. We're not just opening a big old jar of pickles and throwing them on a plate. We're making the pickles."
If you're looking for something a little more substantial than a fresh bagel, Rockin' Dave's offers a full breakfast menu with bagel sandwiches, biscuits and gravy, and build-your-own breakfast burritos. The Clogger, a bagel sandwich with bacon, tomato, avocado, red onion and cream cheese, is a house favorite.


Rockin' Dave's Bistro isn't just for breakfast, either. You can find house-smoked pastrami and smoked pork sandwiches on their mouth-watering lunch menu. The late night crowd will enjoy The Backstage Lounge, offering dinner specials, rice bowls for the veggie-lovers and Rockin' Dave's twist on bar food. The lounge is open 4pm to close Tuesday through Saturday.