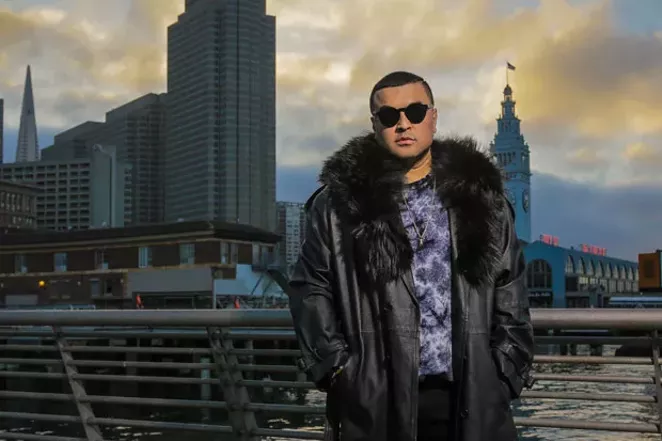 Lyrics Born has earned several "first" titles over the years. He takes the title of first Asian-American solo rapper to release a greatest hits record and perform at major festivals including Coachella and Lollapalooza. Now, he also stands as the first Asian-American solo rapper to release a 10th album. This milestone comes as a great and rare achievement for any hardworking artist and he made sure to go big on "Quite a Life." Lyrics Born, the stage name for Tsutomu "Tom" Shimura, takes on heavier personal and social themes on the new album, while still bringing the funk-influenced hip-hop.
"It's my 10th album and 'if not now, then when?' was how I felt about it," Shimura says of taking on more serious themes. "It's a very historic moment for me as an artist, so few artists hit that 10-album mark, it's not something to take for granted. To be able to hit that milestone as an artist is huge. I'm also sort of at the point where I just don't care anymore. I want people to understand my truth."
From calling out society for not making room for Asian-Americans, to his wife's battle with cancer, to funky "Chocolate Cake," Lyrics Born gives listeners a peek into his truth and the life he's living. "Quite the Life" features a version of the James Brown classic, "It's a Man's Man's Man's World," turning it upside down and updating it for the present. His version, "This is a Man's World?" incorporates new lyrics that bring the message of the song into 2018.
"You know what's funny is that I've been singing it for years," Shimura says of "This is a Man's World?" "It was always the show stopper. The third verse, I always reserve to talk about the topics du jour. When I started singing it, I would get booed at my own shows. I knew how I was going to resolve the song, so I powered through it. When people saw how I changed it, so far, it's always gotten a great response."
Shimura, a huge James Brown fan, loves the original, but as an artist was grateful for the opportunity to flip it and update it.
"There's this other layer that you add to its greatness when you can see where it started and where we were and then see where I was able to take it and where we are now. It's just interesting to be about to see that transformation."
"Quite a Life" also delves deep into Shimura's personal life. "Can't Lose My Joy" takes his wife's battle with cancer and has become an extremely relatable song for his audience. Throughout the course of his 25-year career, he admits that the reaction to "Can't Lose My Joy" has been the most powerful.
"I've had people running up to me in the streets and hugging me in tears," Shimura says. "I knew what we were going through was very real for us and the assumption that I made was knowing how many people live with cancer or live with someone who has cancer, I knew it would hit a chord with people, but I didn't realize it would be like this. It's just been a tidal wave of response."
In an industry where measurements of success come in terms of the number of albums sold, songs streamed and concert tickets sold, Shimura can track his success by the number of songs that brought people to tears. People confess to Shimura that his music has helped them when they're on the brink of suicide, ahead of a job interview or when they were considering dropping out of school.
"I think maybe prior to that point, I was just writing the songs and it was my job, but you really start to see the effect of what you do. I really believe our jobs as artists is to help people."
Lyrics Born performs at Worthy Brewing's Dance of the Dead. While his new album includes incredible, personal songs that may tug at your heartstrings, expect it to be a party.
Halloween Bonus Questions!
In honor of the spookiest day of the year, we asked both musicians we interviewed this week for a few of their Halloween favorites.
Favorite Halloween costume you've ever worn?
Schneider from "One Day at a Time"
Favorite scary movie?
Favorite Halloween/horror song?


"Thriller" — Michael Jackson
Favorite piece of Halloween candy?
"As long as it's not fresh fruit, we hated those houses, we always threw those back," Shimura says. "Either Reese Peanut Butter Cups or Twix, but the best Halloween candy was the people that just said 'I don't want to deal with you kids,' and left the whole bowl. Second to that were the people that gave out full-sized candy bars."
Lyrics Born at Worthy Brewing's Dance of the Dead
Fri., Oct. 26. 8pm
Worthy Brewing
495 NE Bellevue Dr., Bend
$20/GA, $30/VIP at Bendticket.com
21+