Bend local Dakota Blackhorse-von Jess pulled off a ridiculous move to finish third in the classic sprint at yesterday's U.S. Cross Country Championships in Soldier Hollow, Utah.
After qualifying first in the opening sprint, the 26-year-old Bend Endurance Academy racer came back from a near-disastrous fall in the semifinal heat.
"In the semis he fell early and was gapped (by the other racers) by 30 meters," said BEA cycling director Bill Warburton. "He got up and then won the heat."
Ben Husaby, a former Olympian and Blackhorse-von Jess's BEA coach, was blown away.
"I've never seen anything like it, it was one of the most impressive feats I've seen in my 30 years of ski racing," Husaby said on BEA's blog.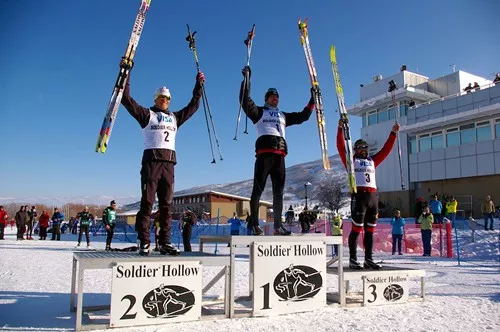 Faster Skier
Blackhorse-von Jess is on the far right.