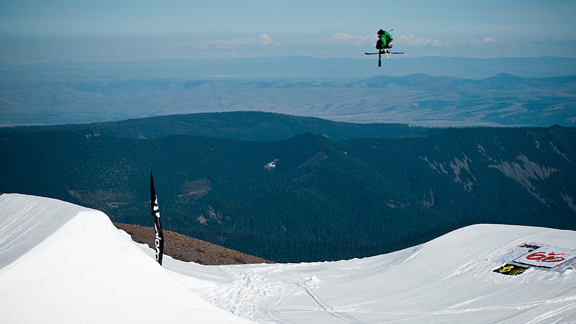 The Sammy Carlson Invitational is coming to Mt. Bachelor on May 19. This is big news in the ski world.
Here's why: Carlson was the first skier ever to land a switch triple flip, a move he stomped at Mt. Hood in July of 2010. And, as reported by ESPN yesterday, his invitational includes such big name slopestyle/freeskiers as Sean Pettit, Alex Schlopy, Kaya Turski, Dane Tudor and more.
We're pumped for this, despite Bachy's new and reduced spring hours—a move that has drawn the ire of skiers, snowboarders, snow-tubers, snowshoers, nordic nerds, dog mushers and most of the rest of Central Oregon's snow enthusiasts.
See Carlson getting rad below—actual footage of his switch triple rodeo 1260: