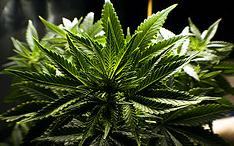 Here's a thought: When you're hauling, say, 60 odd pounds of high-grade dope in a brand new car with out-of-state plates, you might want to keep it under 70 miles per hour on Oregon's highways.
That seems like common sense to us, but apparently not so much for William Ian Anderson, 24, of Chico , Calif. who was popped for speeding and reckless driving just north of K-Falls on Monday by Oregon troopers.
According to an OSP press release issued Thursday, officers found roughly 57 pounds—yes, pounds!—of marijuana in the trunk of Anderson's 2012 Subaru Impreza during the stop. Police estimate the street value of the pot at $142,500.
Apparently OSP gets preferred deals, or maybe those sweet cop mustaches are an indication that cops really are timewarping from 1978, because we put it at closer to $450,000 using a fairly conservative estimate of $200 per oz.
But if cops know where to pick $35 quarters of California chronic, please clue us in.