As Hurricane Sandy bears down on the East Coast (see above graphic) and residents scramble to protect themselves from this historic storm, our staff scientists are asking the question, "is this storm in any way tied to an average rise in global temperatures across land and ocean surfaces?"
In the words of infamous climate-change-denier Sarah Palin, "You Betcha!"
The storm, which is already lashing northeastern states with high winds and heavy rains, is expected to hit land later today or tonight. And it's big one. Forecasters say that they expect the hurricane/Nor'Easter hybrid to "paralyze life for millions of people in more than a half-dozen states in the Northeast, with widespread power failures, a halt in transportation systems and extensive evacuations."
And just days before a presidential election in which global warming was largely ignored by both candidates! What's more expensive, continually cleaning up after these monsters or investing in green energy?

Kevin Trenberth, head of the Climate Analysis Section at the USA National Center for Atmospheric Research and one of the world's foremost experts on changes to global energy and water cycles said this, in regard to Sandy:
"Climate change is changing the weather," Trenberth said. "The past few years have been marked by unusually severe extreme weather characteristic of climate change. The oceans are warmer and the atmosphere above the oceans is warmer and wetter. This new normal changes the environment for all storms and makes them more intense and with much more precipitation."
According to the National Oceanic and Atmospheric Administration, "the average global temperature across land and ocean surfaces during September 2012 was 1.21 degrees above the 20th century average. That temperature ties with 2005 as the warmest September in the 133 years that records have been kept."
Bill McKibben, a leading journalist on global warming, agrees that warmer ocean and air temps do indeed contribute to crazy storm cycles, just like the one we're seeing now.
"This thing is stitched together from elements natural and unnatural, and it seems poised to cause real havoc," McKibben said.
"It's really important that everybody, even those who aren't in the kind of path of this storm, reflect about what it means that in the warmest year in U.S. history, ... in a year when we saw, essentially, summer sea ice in the Arctic just vanish before our eyes, what it means that we're now seeing storms of this unprecedented magnitude," he added.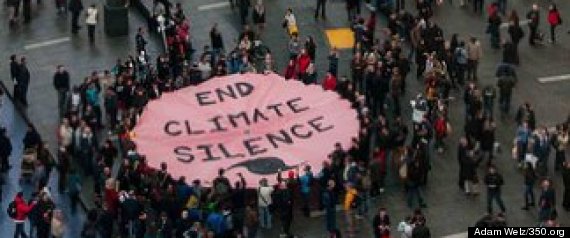 In a lighten take, Kevin Welner, director of the National Education Policy Center, suggested that we start naming these massive storms after their "sponsors."
You know, like "Hurricane ConocoPhillips" and "Hurricane ExxonMobil."
Much more descriptive than "Sandy" or "Irene."