May 17, 2019 Slideshows » Scout
Fun with the Kids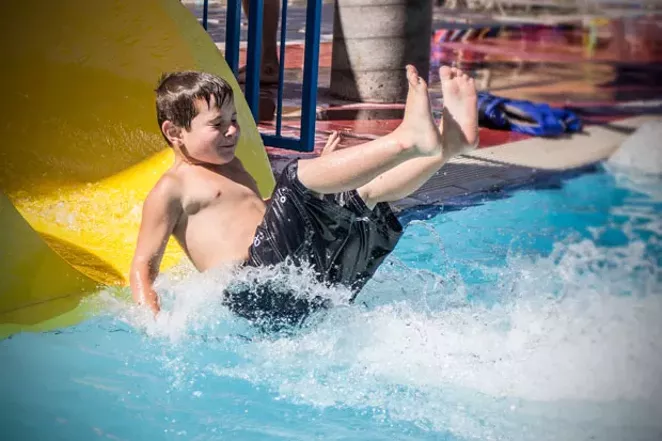 Submitted
Juniper Swim & Fitness Center
With four swimming pools, your family can swim and splash year-round. During the summer months, the outdoor water play area offers a slide, water fountains and a snack stand. Winter months are no less fun with indoor pools, diving boards and a kiddie play pond. Get in a workout in the cardio fitness and weight room, or catch a class, available on a drop-in basis. Onsite childcare is available.
800 NE 6th St., Bend
bendparksandrec.org/juniper_swim_fitness
Courtesy Sharc/Facebook
SHARC
Located in Sunriver, SHARC has an indoor and outdoor recreation pool, an outdoor hot tub, lazy river, two waterslides and a children's pool. Grab lunch at the cafe or hit the playground or basketball and bocce ball courts. During the winter, there's even a tubing hill. 57250 Overlook Rd., Sunriver
sunriversharc.com
Courtesy High Desert Museum/Facebook
High Desert Museum
Learn about the cultural history of the High Desert through unique exhibits, live animal encounters and programs that ignite the imagination. Step back in time and catch a glimpse of life in early Oregon as you interact with settlers and explorers in the outdoor living history exhibit. Let the kids say hello to river otters, bobcats and birds of prey as you visit the museum's wildlife. Plenty of hands-on exhibits and play spaces allow even the smallest in your crew space to explore and learn.
59800 U.S. 97, Bend
highdesertmuseum.org
Cascade Indoor Sports/Facebook
Cascade Indoor Sports
Try to wrap your mind around this: 50,000 square feet of indoor space, dedicated to active family fun. Skate at the roller rink or climb, slide, jump and run on the enormous indoor play structure. There's even an area for indoor sports, including soccer, hockey, volleyball and flag football. Sign your young athlete up for a program or let them run, climb and tumble out their extra energy during free play.
20775 NE High Desert Ln., Bend
cascadeindoorsports.com
Submitted
Vector Volcano
Wind down from a day filled with hiking and rafting at this old school arcade located in downtown Bend. Open to all ages at all times, parents can play the games they grew up with and enjoy a beer or cider while kids get acquainted with the classics. Leave your change at home and enjoy one low entry fee and the absence of pleas for "just one more quarter, please!"
111 NW Oregon Ave., Bend
vectorvolcanoarcade.com
Courtesy Bend Rock Gym/Facebook
Bend Rock Gym
If your little monkeys aren't quite ready to scale Smith Rock, head to Bend Rock Gym. This indoor climbing and bouldering facility is far less intimidating and filled with colorful climbing paths that kids will be eager to attempt. Save a little cash when you attend Family Climb Night every Friday evening for $50. The price is the same whether you have two kids or eight. Bonus: the price includes rentals!
1182 SE Centennial Ct., Bend
bendrockgym.com
Submitted
The Pavilion
This NHL-size skate rink is open November through April for ice skating. It offers open skate, family skate and the opportunity to take skate lessons or take part in ice-sports such as curling and hockey. During the summer months, the space is used for active summer programs for kids.
1001 SW Bradbury Dr., Bend
bendparksandrec.org/the-pavilion
Submitted
TRAMPOLINE ZONE
With over 50 trampoline beds and 5,000 square feet of bounce, Trampoline Zone offers people an indoor bouncing experience that has no rival. Kids over 8 and adults alike can fight their way across the Gladiator Beam, have a slam dunk contest, join a game of Dodgeball or learn freestyle acrobatics at the Trick Pit.
63040 NE 18th St., Bend
tzbend.com
Courtesy Sun Mountain Fun Center/Facebook
Sun Mountain Fun Center
Bowling, bumper cars, go-karts and arcade games galore: this local business knows how to entertain. With 25 lanes, you won't have to wait to strap your bowling shoes on. When the weather is too hot or too cold, this is a definite contender for indoor family fun.
300 NE Bend River Mall Dr., Bend
sunmountainfun.com
Courtesy Sun Mountain Fun Center Facebook
Mountain Air
Take flight at this local indoor trampoline park offering 26 trampolines, each surrounded by angled safety walls. Jump and tumble down the long, buoyant runway or hit the basketball lanes and dodgeball court. There's also a toddler zone for the littlest family members.
20495 Murray Rd., Bend
mountainairbend.com