Primal Cuts // submitted
Primal Cuts
Primal Cuts is a butcher shop and so much more. Stop in for a sandwich and a pint from one of the 37 taps. The predictably meat-forward sandwiches are unforgettable. The Asian-style pork meatball is reminiscent of a banh mi, with soft, gingery pork meatballs, house-made pickled vegetables, fresh cilantro and green onions on an airy Sparrow Bakery hoagie lightly spread with spicy Sriracha mayonnaise. These sandwiches are so good you'll be back to try each one.
1244 NW Galveston Ave., Bend
541-706-9308
primalcutsmeatmarket.com
Lisa Sipe // Source Weekly
Bos Taurus
This modern American steakhouse just won the 2018 restaurant of the year from the Source Weekly and landed on BuzzFeed's, "Here's the One Restaurant to Try in Every State in 2018, According to Yelp." The menu features carefully curated steaks from 13 ranches around the world, cooked on a custom-built cast iron slab. The place has a fine attention to detail, from the service to the inventive classic cocktails to the thoughtful wine list and even their flaky popovers. The Japanese Hokkaido A5 Wagyu is $192 for four ounces. Yeah, you'll be dropping the Benjamins.
163 NW Minnesota Ave., Bend
541-241-2735
Bostaurussteak.com
submitted
The Sparrow Bakery
You must try an ocean roll. Ask any local and they'll say the same thing. The roll is Bend famous: a flakey, buttery croissant layered with cardamom, sugar and vanilla. The Sparrow Bakery is open for breakfast and lunch, but also for espresso drinks, bread or pastries. The original location on Scott Street is rustic and quaint while the Northwest Crossing restaurant is spacious and modern. The bacon breakfast sandwich, a hand-rolled croissant with a poached egg, bacon, avocado, arugula and aioli, is divine.
50 SE Scott St. / 2748 NW Crossing Dr. #110, Bend
541-330-6321 / 541-647-2323
thesparrowbakery.net
Louis Amoratti // submitted
Ariana
If you're looking for accomplished chefs, fine dining and phenomenal service, Ariana is the place to feast. They've won restaurant of the year from the Source Weekly and Open Table's top 100 restaurants in America twice, and they've also cooked for the Beard House. The menu is almost entirely gluten free, and you can't go wrong with anything, from the carpaccio to the short ribs with sweet pea purée, to the pea tendril-carrot salad and horseradish cream. For a really special evening, put yourself in the chef's hands and do the five-course tour.
1304 NW Galveston Ave., Bend
541-330-5539
arianarestaurantbend.com
Lindsi Kay // submitted
Marcello's Cucina Italiana
Whether you're looking for the pizza or pasta, or seafood and filet mignon, this is Italian you'll crave. Serving the classics with a Northwest flavor, and with recommended wine pairings for each dish, there's a reason our readers have voted this the best dinner in Sunriver in 2017.
57031 Ponderosa Rd., Sunriver
541-593-8300
marcellos-sunriver.net
Christian Heeb // submitted
5 Fusion & Sushi Bar
If you're looking for upscale sushi, this is your spot in Bend. Among its many accolades, the restaurant has been nominated for the prestigious James Beard award three times. The presentation here is as beautiful as it is delicious, and the atmosphere is modern, bright and inviting.
821 NW Wall St. #100, Bend
541-323-2328
5fusion.com
submitted
Jackson's Corner
Stop at Jackson's Corner for an amazing meal any time of day. This bright, sunny restaurant is a local favorite. They make almost everything in house, including the fresh pasta and bread, intentionally sourcing produce and meat from local farms. Eat with the seasons and order items you crave, such as French toast, biscuits and gravy, salads piled high with veggies and wood-fired pizza. The environment is casual and kid-friendly. You can order cocktails, beer and wine, or grab a bottle from the cooler. Jackson's Corner has won restaurant of the year from the Source Weekly in the past, and won Best Family Dining in 2018.
845 NW Delaware Ave. / 1500 NE Cushing Dr., Bend
541 647-2198 / 541 382-1751
Jacksonscornerbend.com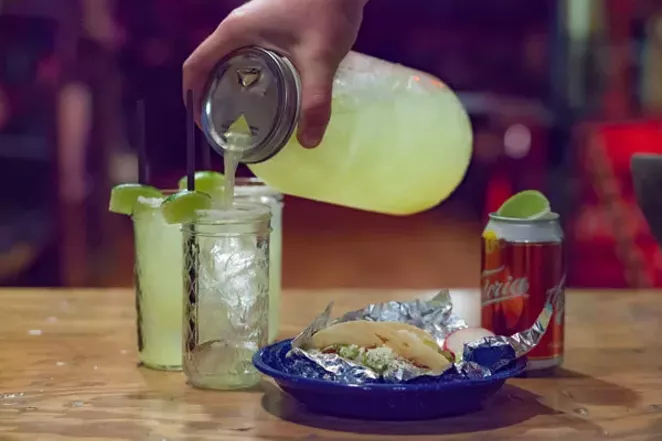 Gary Calicott // submitted
El Sancho Taco Shop & Taco Shack
A little bit of taco heaven awaits at any of the El Sancho locations. The fried tacos are a bit greasy in the tastiest way. Flavorful fillings include pork carnitas, beef barbacoa, spicy mushroom, lengua (seared cow tongue) or Oaxacan cheese with roasted green chilis. Each crispy taco is topped with cilantro, cotija cheese, red or green salsa and fresh onion. At the taco shop, wash it down with one of their nine margaritas. The pineapple serrano adds spice to your life.
Taco Shack - 50 SW Division St.
Taco Shop - 335 NE Dekalb Ave., Bend
458-206-5973
elsanchobend.com
Whitney Whitehouse // submitted
Spork
Possibly the most popular restaurant in town, in a previous year winning restaurant of the year from the Source Weekly for their highly seasoned, globally inspired dishes.Every item is delicious. Start with the crispy, spicy fried chicken; the texture is spot on and you can't beat the sweet heat.
937 NW Newport Ave., Bend
541-390-0946
sporkbend.com
AJ Meeker // submitted
The Suttle Lodge & Boathouse
Unique culinary experiences await at this spot, located on the shore of an idyllic lake west of Sisters. In fall and winter, they host celebrated chefs for one-night-only adventures. The Sunday Supper + Show series combines artists and eats, offering a free-form glimpse into the work of guest artists paired with a dinner special by lodge chef Jacob Rodriguez.
13300 US Highway 20, Sisters
541-638-7001
thesuttlelodge.com
Gary Calicott // submitted
From gingery pork meatballs, to Japanese Wagyu steak, to the cardamom-infused ocean roll, Central Oregon has an abundance of must-have taste bud teasers. And don't forget the pea tendril-carrot salad with horseradish cream.