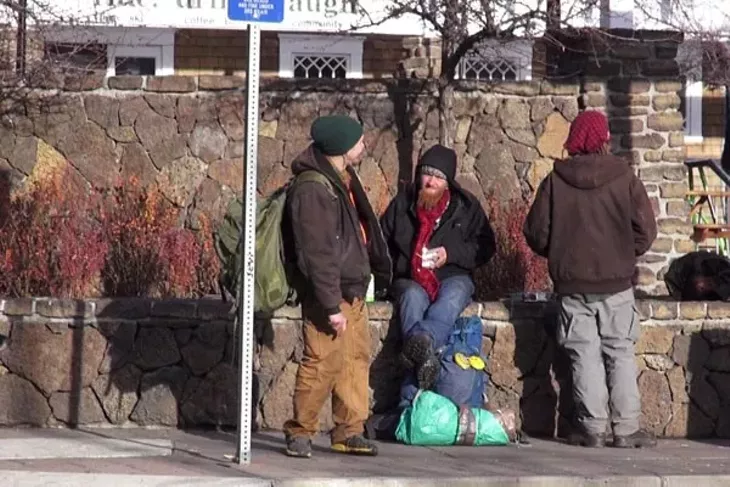 5 slides
In 2010, the historic Rademacher House—home to Bend's first mayor—was the site of Arts Central's educational programming. That year, the organization opted to close down classes in the space, after "a vile act was committed in full view on the porch." Inside, a group of young children were gathered for an arts class when the event went down.
These days, it's more of the same near Mirror Pond Plaza, while walking along the NW Brooks Street Promenade in downtown Bend, two young men bolt through the breezeway connecting Wall Street to the Plaza, letting F-bombs fly. Other walkers give way, clearly wanting to avoid the two men. It's not an infrequent occurrence, and it's one of the biggest concerns heard by merchants and shoppers.
According to Bend Police, drug dealers routinely prey upon the homeless population in the plaza. A recent police undercover action was successful in ridding the area of a known drug dealer. Drug dealing, sex acts, urination, defecation and panhandling happen regularly in the area—considered to be some of Bend's most desirable waterfront real estate. Currently, most of that high-value real estate is comprised of two city-owned parking lots providing about 200 spaces for visitors.
Drugs, Sex and Anything Goes
Business owners, including David Marchi, have complained loudly to the city and to Bend Police, who worry about the situation once again getting out of hand, as it did earlier this year. Marchi, who owns the Crow's Feet Commons bike & ski shop on the breezeway corner, and also the coffee shop and taproom in the Rademacher House adjacent to the plaza, wrote a Facebook post last summer, which set fire to an already lively conversation about criminal activity and other unsavory behavior in the plaza.
The problem is at its worst during the warm summer months which also happen to be the most important tourist months, with 3 million people descending on Bend and pumping nearly half a billion dollars into the local economy.
"In the summer is when I get to clean up all the syringes," Marchi told the Source Weekly. Meanwhile, Sgt. Dan Ritchie of Bend Police says the needles pose a significant hazard. "The health risks are off the charts," he says.
While optimistic about short-term solutions underway, many feel a longer-term vision for the economic health of downtown Bend is sorely needed—and the only ultimate answer to the behavior of loitering transients in the area.
Cate O'Hagan, who operated the now-defunct Mirror Pond Gallery housed in the Rademacher house, says the area encourages unsavory behavior. "The parking lots are a drug drop-off spot on each side of the building. It's well designed for people to not behave well." She says heroin, meth and other drugs are commonplace. O'Hagan says during her time in the space, she also helped break up sex trafficking activities. O'Hagan closed Art Central's Mirror Pond Gallery in 2008 and expanded its education programming in the same space. Educational programs were closed in 2010 after that incident on the porch.
According to the former Executive Director of the Downtown Bend Business Association, Chuck Arnold, transients are the majority of the disrupting population. Arnold is now the Director of Economic and Urban Development for the city of Redmond. "I really see the larger population as transients; people who are there in their 20s. They're counter culture and reject societal norms. They want to be disruptive and are by choice transients." Arnold says the transient group is a different group from those who are homeless or kids who are out to "just be rascally."
Arnold says transients share a text network and exchange information on places where they are more welcomed and can often get free meals.
O'Hagan agrees. "People from New York or other places know we are a soft touch here. We've become a known destination for people to hang out," she says. O'Hagan continued, "Social services have been down here in the past to serve lunches, but it ended up attracting more of that very type of activity that was not beneficial to business and attracting tourists and shoppers." The nearby Family Kitchen, which provides free meals, has sometimes received criticism.
But Family Kitchen's Donna Burklo says she sees no correlation between offering needed meals and the number of transients in the plaza. "The vast majority of people who come have a meal with us move on. People hang out down at the plaza because it's a cool place to hang out," she says. Burklo says in talking with merchants in the area, she feels gratified for the support for Family Kitchen, located on Idaho Street just south of downtown. The agency has provided free meals at the same location for the past 30 years.
Meanwhile, Arnold says the situation during his tenure as head of the Downtown Bend Business Association was frustrating. "We spent tens of thousands of dollars to tell people to come visit this beautiful downtown, and when you saw this negative behavior, it really punches you in the stomach."
Arnold recalled offering a tour to a couple from Texas who wanted to move their business and its 28 employees to Bend. When they were on the riverfront, Arnold says, "Just then a group of young transients came by yelling F-bombs...threatening and aggressive with their language." The couple told Arnold they had to go, and he never saw them again.
Improvements Underway
Numerous efforts have been made to improve the situation. Merchants like Marchi are appreciative of beefed-up police patrols and other modifications. Bend Police are seeking permanent funding for more consistent downtown patrols, and re-design plans of the south parking lot are underway to make it safer.
One area that's already received lots of sprucing up is the breezeway connecting Wall Street to the Plaza, which was once dark and gloomy. Transients would often camp out and sleep inside the covered walkway, but iron bars placed in those areas now prevent that. Lighting has been upgraded and security cameras mounted, and the area is routinely cleaned. Speakers installed to carry music unappealing to younger people are another deterrent under consideration. "The breezeway is much better than it has been," says Rod Porsche, executive director of the Downtown Bend Business Association, who was along for the walk around the plaza. "It's really a functional pass-through now."
As one leaves the breezeway and enters the Plaza area, the south parking lot presents other problems. According to Porsche, two large garbage containment areas—enclosed by concrete block— provide privacy for drug deals and other lewd behavior. "You could do a lot of things in this garbage enclosure, the way it's designed, that are undesirable or illegal. It can be really, really bad in here."
Showing us the enclosure containing several large garbage containers with graffiti on the walls, Porsche said, "If you maneuver these wheeled garbage containers you can provide privacy for all kinds of things you don't want to know about." The area also poses a potential safety problem for late-night workers who dispose of garbage or walk to their vehicles once off duty.
Porsche and others say that one of the critical things missing in downtown Bend is public restrooms. Recently his office was moved to the corner of the downtown parking garage at 61 NW Oregon Avenue, so Porsche and his staff could oversee the re-opening of two restrooms in the parking garage. He says the restrooms have helped relieve a major problem, especially during the tourism season. The restrooms close during the winter and will re-open next spring. Porsche says downtown Bend needs more public toilet facilities that would help relieve stress in areas like Mirror Pond Plaza.
The two parking lots in the plaza area also contain a median grass strip that provides a gathering place that many merchants and Porsche would like to see eliminated. Exclusion Zone enforcement prevents disruptive individuals from returning within 90 days.
Many public benches providing seating have been removed in the hope of discouraging loitering and overnight sleeping. Up to 50 power outlets where transients could recharge their phones have been closed.
But while these actions discourage transient behavior, they also make the area less inviting for people who use the area for recreation. Critics say these are only short-term solutions and that longer- term vision is needed for the plaza area to reach its potential as a centerpiece for downtown.
Long Term Solutions
To solve the problem, O'Hagan recommends a complete transformation of the area. "The best thing to do is to re-develop it, which means bringing it back to more green space and retail. It's just going to continue to attract the same people unless new design and thinking is brought into this area by people who know how to deal with these kinds of issues. They have not been able to get a grip on it."
Arnold agrees. "This area is the back of downtown and it shouldn't be. We're parking 200 cars on our most incredible real estate in the City of Bend overlooking the river with a mountain view 14 miles away and our absolutely incredible park... and we're parking cars next to it. It doesn't seem like the highest and best use."
Marchi says he would like to see a longer-range plan for the area, such as the addition of permanent food carts—which would require a change in city regulations.
But before the city considers long-range plans that might include hotels, more retail and restaurants, the city's Director of Economic Development, Carolyn Eagan, says that would require a new parking strategy. The city is currently conducting a parking study, which Eagan feels is the first step in the evolution of the space. "Where would we replace those 200 parking stalls at the two parking lots by the plaza?" she asks. She also notes that building height restrictions might have to be lifted to allow for concentrated development. Proposals to increase the height of buildings along the waterfront have been opposed by the Bend City Council in the past. In the Source Weekly's Nov. 24 "What's Next for the City?" story, some incoming council members indicated a willingness to look at changes to the current parking area.
But as for the prospect of hotel, retail and restaurant development, Eagan hesitates. "I would reflect the community's vision for that so I'm really uncomfortable making a statement about what should happen on those parking lots right now."
Sgt. Ritchie is optimistic that the city is heading in a good direction in responding to the transient problem at the plaza, but he says, "It's too early to wave the flag of success." He hopes for an overall solution to the problem and worries about forcing the transiency from one location to another with preventative measures underway. "I find myself using downtown or the City of Bend as a chessboard – putting someone in check and never coming up with a checkmate move."