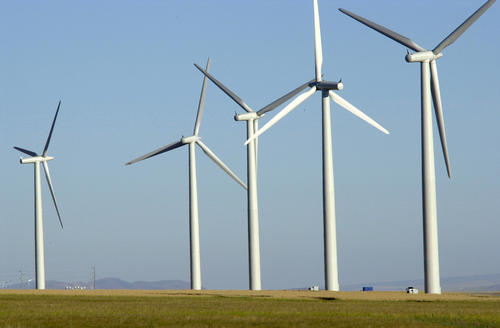 A proposal to build Central Oregon's first large-scale wind farm won the approval of federal regulators on Thursday. The Department of Interior announced today that it had signed off on a plan for a developer to build 52 wind towers on a 10,000-acre, privately owned piece of land that straddles eastern Deschutes and western Crook County.
Crook County Commissioners signed off earlier on the project which is expected to generate about $1 million annually in tax revenue for Crook County and the federal approval marks the final hurdle in the approval process for the project which is expected to generate close to 150 megawatts, one megawatt is enough energy to power between 800-1,000 homes.
The project had drawn the scrutiny of state wildlife biologists because of its proximity to a verified population of sage grouse, a native high desert bird that is on the short-list for inclusion on the endangered species list.
Biologists had originally requested that the developers maintain a three-mile setback from the sage grouse population. However, project managers persuaded Crook County commissioners to use a much less stringent standard of one-quarter mile .
According to a Department of Interior press release on the project, West Butte Wind Energy has agreed to provide for "restoration and enhancement" of 9,000 acres of similar sagegrush habitat on federal lands. The company also agreed to provide money for additional sage grouse habitat conservation and will prepare a management and mitigation plan for birds and bats, which aren't always able to navigate wind farms.