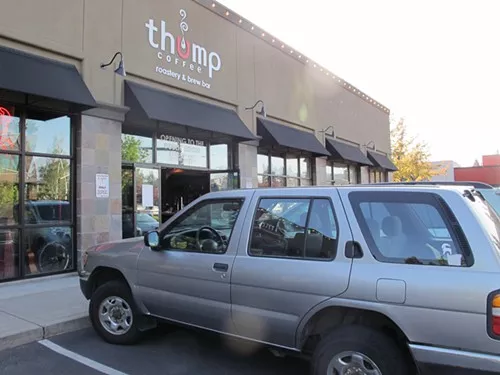 The Thump Coffee roastery and brew bar at NW Bond St. and NW Franklin Ave. isn't open to the public yet—maybe soon, though.
A new sign popped up recently in the shopping center at NW Bond St. and NW Franklin Ave. next to Amanda's Mexican Cuisine. It reads, "Thump Coffee: roastery & brew bar."
The sign's a bit misleading, though. The new Thump location isn't a place to grab a cup of coffee—yet. Thump's general manager Dan Baumann said, however, they've been roasting at the location since January.
"We have people stopping in everyday looking for a cup of coffee," he said, adding that there's a misconception about Thump's cafe about a block away at 25 NW Minnesota Ave. closing. It won't.