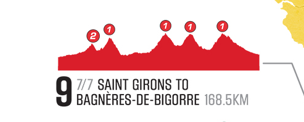 VeloNews
Watch Stage 9 on July 7. Four Cat. 1 climbs!
Saturday,
June 29
marks the beginning of the
100th edition of the Tour de France
, one of the most grueling and beautiful sporting events in the world. But one that's also been plagued by scandal and negative press. Ignore such "information!" Care not about the latest
non-apology from Lance
! Le Tour survives and moves on!
Early mornings in July are meant for watching the tour, with all its punishing climbs, furious sprints, zany breakaways and peloton drama. If you don't have a fancy cable TV package, or reliable internet, or you're simply a social creature who would enjoy watching the 21-stage race with fellow enthusiasts, head down to Crow's Feet Commons in downtown Bend. The bike/ski/cafe/brew pub is opening early and showing the tour at 6 AM EVERY MORNING!
We recommend watching daily, starting at 6 am (check cyclingfans.com and steephill.tv for semi-reliable live tour feeds) to fully engage in the drama. But casual fans won't want to miss these stages (check VeloNews for a helpful info graphic showing basic info about each stage):