It was one of those nights. After spending much of the day in the dentist's chair I felt totally out of it. So, in an attempt to cheer myself up, I started exploring the mindless joys of cable television.
Suddenly everything got better.My funk lifted when I came to the Reelz channel and discovered they were showing a one-star rated film that is my absolute favorite worst movie ever made. And even better, it was made in Bend.
The film is, of course, "Up The Creek" that totally lame story about a raft race between a bunch of fictitious colleges and universities. Apart from the race, the film is about the getting and the not getting of sex, sexual innuendo, crazed boozing and some of the worst lines ever written in the English language.
The plot is simple. Good goofball (drinking or drunk most of the time) college guys from Lepetamene College want to win the annual raft race and beat the perennial champions from Ivy University.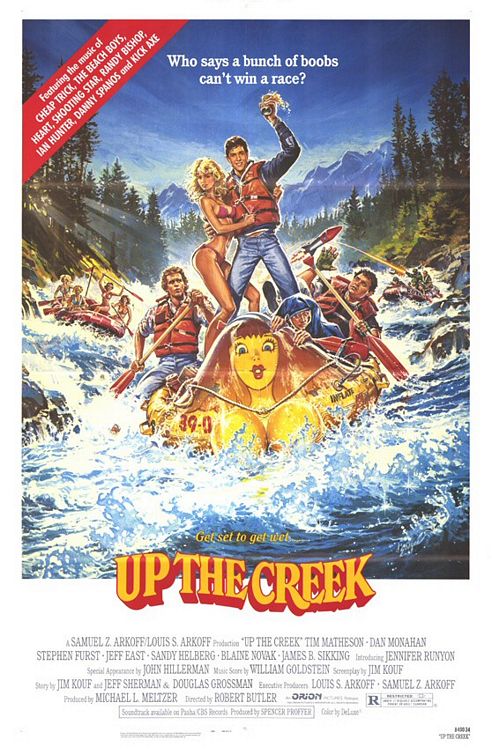 Ivy's raft team is made up of snot-nosed blond hunko beach boy types all of whom look like they're from SoCal and not anywhere near the Eastern seaboard. Hey but who cares, they're all a bunch of preppy clones.
And of course there's a girl that one of the rich Ivy guys covets but who falls for the charms of Lapetemene's Bob McGraw who is, according to a press release for the film, "in his twelfth year of college."
Right then and there, you know this is going to be fun as McGraw (played by Tim Matheson) is one cool, easy going, fast talking dude. And handy with the ladies in case you hadn't figured that out.
A dude given to spouting lines like, "next time I see you, I hope I can jump you again, " as he crawls out of a sleeping bag tryst with the female lead who looks like, as do most of the women in the film, a Farrah Fawcett wannabe.
But let's forget the plot which is hysterical in it's beat-you-over-the-head simplicity and the by-the-numbers acting and get to why the hell this movie was even made and what happened when it was being made in Bend.
"Up The Creek" was made in 1984, six years after the wildly popular "Animal House." Whoever came up with the idea for "Up The Creek" must have figured that a film that looked even a little bit like "Animal House" with plenty of bumptious young women, booze and some sort of frat-rat inspired event would be a sure box office winner.
So the backers of the movie got a young Tim Matheson to star and played him off a hapless bunch of unknowns except for actor James Sikkin who plays the role of the evil raft race organizer ( he's an Ivy alum and in cahoots with those really mean spirited Ivy guys).
For Matheson, it was the start of a career that would arc upward. For Sikkin is was the start of a career heading downhill after his stellar work on television's long running "NYPD Blue" series.
So Matheson, Sikkin and the rest of the film people arrived in Bend. There was some local casting mostly of river guides and extras for crowd scenes. Filming was done primarily on the Deschutes River above town on the section between Aspen Camp and Lava Island Falls including hundreds of feet of film shot at Big Eddy.
Interior drunken barroom scenes were shot at the old Bend Woolen Mill then the local bar of choice for, well, heavy swilling and more than the occasional brawl. Today the Woolen Mill is the Shepherd's House homeless shelter.
Things got off to a bad start as the films' producers, director and others involved in the making of this masterpiece went around town treating people like they were essentially inferior. One downtown deli owner eventually banned the film's honchos from her shop because they were so arrogant and patronizing.
Not to worry the filming and bad vibes with many in the community went on.
Things on the set weren't much better. A few people, including myself, simply didn't show up for work after a few days of putting up with the endless hurry-up-and-wait filming proceedings.
"You'll ruin the continuity of the scene, "cried the casting director when I told her I'd had it, "you have to come back."
I didn't. I went to Steens Mountain to ski.
Finally, the movie, which started filming in April, wrapped up in late June. And that's when the fun really started.
To make amends to the community and show that they cared about Bend, the film's producers said that they would put on, at no expense to the City, the annual Fourth of July fireworks show on Pilot Butte.
They did and it was a colossal dud. That's dud as in an insipid, lackluster show that ended with some dynamite ka-boom and a huge fire breaking out on the butte.
Locals were not happy and letters to the editor expressed their dissatisfaction with what had always been one of Bend's biggest and best shows.
So the film company left town to put the finishing touches on their masterpiece. As they left, they sold off most of their rafts to Dennis Oliphant's Sun Country Tours.
That summer and for a few years after, raft trip customers would step onto boats bearing names like Texas State and Ivy in big letters on their sides.
Of course everyone on those Sun Country trips was required to wear a personal floatation device (PFDs). Not so in "Up The Creek" where all the male teams in the race wore PFDS while the female teams were PFD-less and, shall we say, more exposed.
Of course, looking at the film today, I try and see if I can pick out people who I knew were extras. The problem is everyone has eighties big hair (both men and women) and the guys all have Tom Selleck-like stashes.
Yet I think I see rivers guides of the time like Steve Stenkamp,Glen Asbury, Jim Bucciarelli, Roy Corpus ,and others if I look hard enough.
Apart from trying to see old, friends, seeing "Up The Creek" is so bad that it brightens even the most sodden spirits. And there's Cheap Trick doing the song "Up The Creek" over the opening credits.
Having enjoyed/endured "Up The Creek" one more time, I now have to see if I can get that 1981 classic "Saint Helens." It too was filmed in Bend and is a howler.