I Like the Snow
by Sarah Nelson, illustrated by Rachel Oldfield
Are you ready to make a snowman? And what is snow anyway? From the first winter flurries to catching snowflakes on your tongue and making snow angels, Nelson's rhyming words take the reader on a snowy adventure. Whether you are playing in the snow or cozy at home looking out the window, the illustrations capture a variety of snowy fun including sledding and dogs running. A delightful read aloud for the whole family. Discover something new about clouds, crystals and extreme cold. Questions for a Snowy Day are included. Explore the full series with I Like the Rain, I Like the Sun and I Like the Wind.
Red and Green and Blue and White
by Lee Wind, illustrated by Paul O. Zelinsky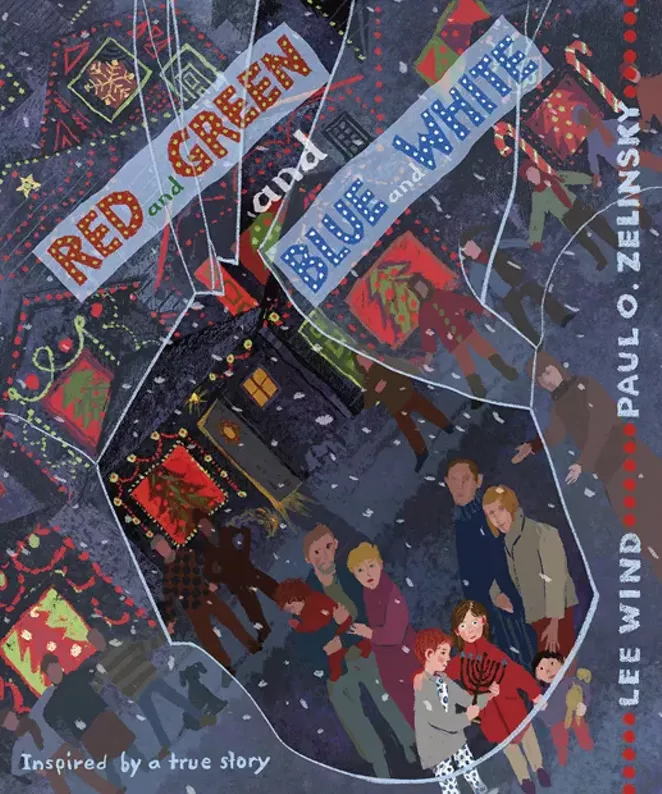 Are you excited for the holidays? Isaac, whose family is Jewish, and Teresa, whose family is Christian, are too! They've been decorating, making cookies, playing in the snow, drawing and writing. "23 days 'til Christmas!" "6 nights till Chanukah!" These friends enjoy all the things they share, as well as the things that make them different. But when Isaac's window is smashed in the middle of the night, it seems not everyone is OK being different. Explore a holiday season where families and community come together to celebrate all holidays. Filled with joy and understanding, Wind's story connects children and holiday traditions by discovering new experiences and showing what community is truly about. As you count down the holidays, take a long look at the end pages; Zelinksy's beautiful illustrations start on the first page where everyone is holding hands and the swirls of blue, white, red and green surround them. His illustrations are powerful and festive. Readers will appreciate his drawings filled with family and friends. Inspired by a true story.