Once daily routines fall back into place after summer activities, moving dinnertime back indoors, away from picnics and barbeques, can feel overwhelming. Here are some ideas to make suppertime simpler, more easygoing and of course, family-oriented.

1. Meal plan ahead of time. Write down at least a week's worth of menu ideas in advance. Get the whole family involved in finding recipes, shopping and prepping veggies ahead of time.
2. Double or triple favorite recipes so that you can freeze some for another week in the month. Soups are great for freezing.
3. Work on repurposing leftovers. For example, if you baked chicken on Monday night, chop leftovers for tacos on Wednesday night. Or toss up some romaine with croutons and sliced chicken for a quick Caesar salad.
4. Keep your pantry and fridge stocked with good basics: pastas, rice, onions, garlic, butter, carrots, celery, etc.
5. Embrace the slower cooker, instant pot and sheet pan.



Here are a couple of simple recipes to get you started.

Simple Butternut Squash Soup
Ingredients:
2 tablespoons olive oil
1 large onion, chopped
½ teaspoon kosher salt
Freshly ground black pepper, as desired
1 (approximately 3-lb) butternut squash, peeled, seeded and cubed
3 garlic cloves, minced
1 tablespoon fresh sage, chopped
½ tablespoon fresh rosemary, minced
1 teaspoon grated fresh ginger
3-4 cups vegetable broth
Chopped parsley, optional, for serving
Crusty bread, optional, for serving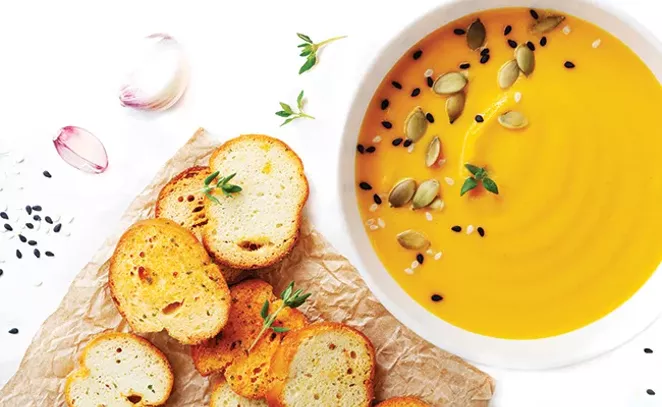 Instructions:
Heat the oil in a large pot over medium heat. Add the onion, salt and several grinds of black pepper. Sauté until soft, 5 to 8 minutes. Add the squash and cook until it begins to soften, stirring occasionally, 8 to 10 minutes. Add the garlic, sage, rosemary and ginger. Stir and cook for about 1 minute until fragrant, then add broth. Bring to a boil, then reduce heat and cover. Continue cooking until squash is completely tender, 20 to 30 minutes.
Remove from heat and cool slightly. Using an immersion blender or a regular blender, blend soup until smooth. If soup is too thick for your liking, add more broth and blend. Season to taste with salt and pepper. Serve with parsley and crusty bread. Serves 4-6



Sheet Pan Chicken Thighs with Fall Veggies
Ingredients:
2 pounds bone-in chicken thighs
1 tablespoon olive oil
½ teaspoon paprika
½ teaspoon garlic powder
Pinch of salt
Black pepper, as desired
1 pound red or yellow potatoes, cut into 1-inch pieces
1 red onion, cut into wedges
1 large acorn squash, seeded and cut into slices or two medium sweet potatoes, peeled and chunked
2 cups brussels sprouts, halved
Seasoning Mix Ingredients:
2 tablespoons extra virgin olive oil
2 cloves garlic, minced
2 teaspoons balsamic vinegar
2 teaspoons honey
1 teaspoon kosher salt
½ teaspoon dried basil
¼ teaspoon black pepper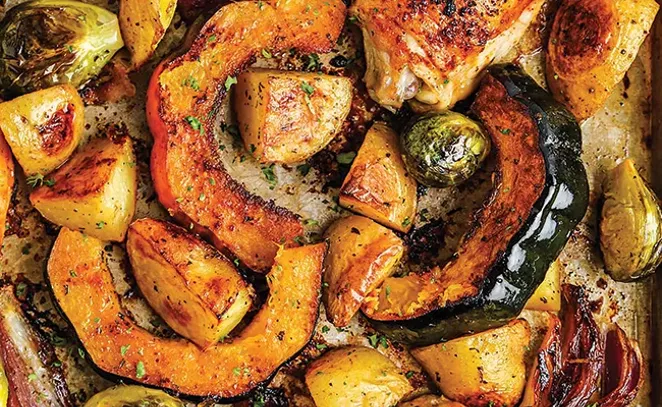 Instructions:
Preheat oven to 450. Line a baking sheet with foil or parchment paper. Combine the seasoning mix ingredients in a small bowl. Place the chicken thighs on the baking sheet. Brush the chicken skin with olive oil and season with paprika, garlic powder, salt and pepper. Place the potatoes, onion and squash in a large bowl. Toss with 2/3 of the seasoning mix. Arrange the veggies around the chicken. Bake 15 minutes.
Toss the brussels with the remaining seasoning mix.
Remove pan from oven, flip the squash over, stir the potatoes and add the brussels to the pan. Roast for an additional 15 minutes or until veggies are tender and the chicken reaches 165 degrees internally. Broil for a couple of minutes before removing from oven.
Other vegetables can be substituted or added. Add veggies that cook faster such as bell peppers or zucchini during the last 15 minutes. Serves 4-6