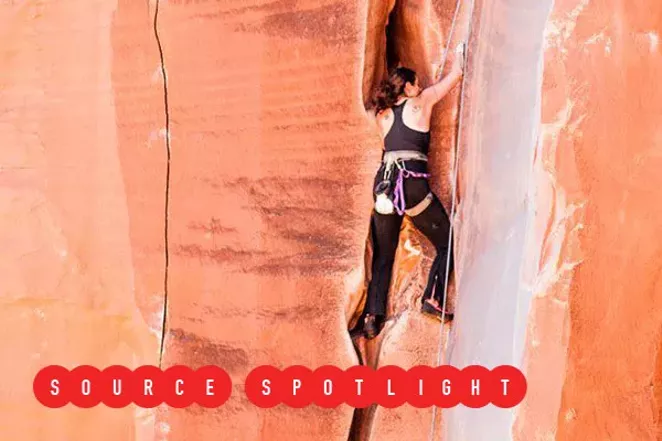 When Almine Barton was young, her parents sat her down and told her she was extremely likely to become addicted to something. She was the middle child in her family, and all of the other middle children in past generations had died because of their addictions. She decided to take matters in her own hands, with some help from her parents.

"I had a gut sense early on that with my addictive personality, if I used vices things would not come out well," Barton explained. "You get a choice in addictions, and you have to occupy your brain with something large that needs caretaking to keep you busy."
Her parents got her into horseback riding because they figured having something large to take care of would have more impact, the larger the animal.
A healer by day and a fighter by night, today Barton divides her time between acupuncture and Brazilian Jiu-Jitsu. Even though it's the hardest sport she says she's ever done, she's obsessed, and eventually wants to teach other women the art of self-defense.
Barton will be the first to admit she's addicted to mastering the comfortable and the uncomfortable, but she's also addicted to the dump of adrenaline she gets from her sports of choice— rock climbing, and more recently, Brazilian Jiu-Jitsu.


"It's the hardest thing I've ever done," Barton described. "It wrecks your body. I'm the only girl in my class, so there are some interesting, weird dynamics because there's a lot of contact—you're literally on top of each other."
Because of the nature of Brazilian Jui-jitsu, and the fact that many people start the sport after they have already had a background in Mixed Martial Arts or wrestling, it can be an uncomfortable sport, especially for newcomers. You might think this means newbies don't last long, but when they have a stubborn streak like Barton does, they stick around.
"Moving up in Brazilian Jiu-Jitsu is an arduous, persevering journey," Barton said. "When I started I told myself I had to try it for three weeks, and then I could quit if I didn't like it. I didn't want to quit when I completely sucked. And after three weeks I just wanted to keep going."
Unlike other martial arts, Brazilian Jiu-Jitsu involves less striking your opponent and much more grappling, typically on the mat. The focus is on the concept that a bigger opponent doesn't always have the upper hand, especially if you can get the fight to the ground. This means women can spar with men who are larger than them and win, Barton explained.
"Brazilian Jiu-Jitsu is like a human game of chess," Barton described. "The guys might be more like King Kong, with an 'I will come and get you,' mentality, but they don't always understand body mechanics. For women it's all about hips and grips."
Barton has been climbing for the past 13 years, and she thinks the skills she learned in that sport give her an advantage when it comes to sparring with opponents larger and stronger.
"They call me the angry backpack, because I latch on and you can't get me off," Barton said with pride. "It's pretty fun to make a large Marine fall hard."
Although Barton has competed in the sport, she's looking for bigger rewards in the future. After a few more years of training, she'd like to start teaching self-defense in areas that have high rates of crimes against women. Because you don't have to be larger or stronger than your opponent to beat them, Brazilian Jiu-Jitsu is an ideal form of self-defense for women.


"They call me the angry backpack, because I latch on and you can't get me off. "It's pretty fun to make a large Marine fall hard." —Almine Barton

tweet this
"I want to do something that's bigger than me, and somehow I feel like it's my job to pass this on to more women, and to empower them," she explained. "I don't like being scared, because being afraid can prevent you from doing a lot of things. So I had to learn to master fearful situations."
When Barton isn't trying to kick butt on the mats, you can find her poking people at Recharge Sport. She has been practicing acupuncture there for the past three and a half years.
It might seem like acupuncture and Brazilian Jiu-Jitsu are at odds with each other. But actually, they both come out of the Shaolin martial arts, Barton explained. Martial artists had to heal their broken bodies, and sometimes the best Martial artists were also the best healers.
"The best martial artists know when to heal and when to harm," Barton said.