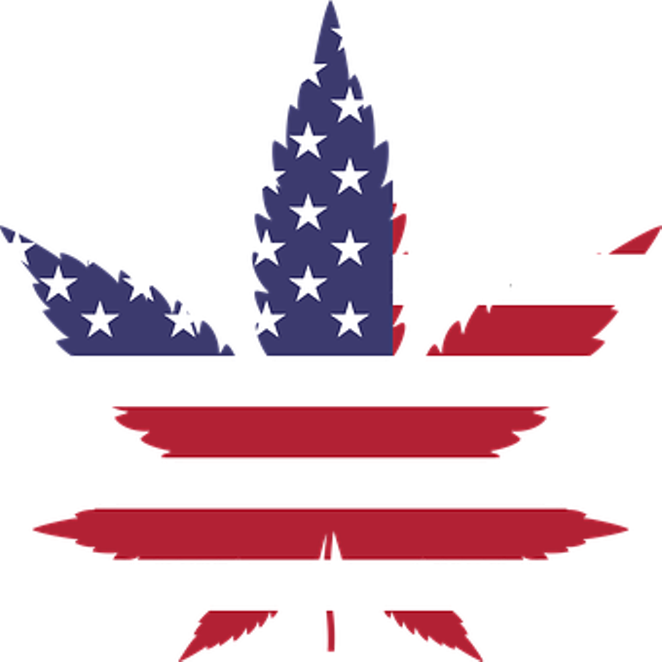 As Donald Trump carries on with his daily ritual of alienating world allies and embracing the world's autocrats, some owners of marijuana businesses could be forgiven for feeling a touch of ambivalence toward the president, thanks to Trump's recent, surprising support of the cannabis industry.
A little background: Senators Elizabeth Warren (D-MA) and Cory Gardner (R-CO) co-sponsored a bill this month that would bar federal prosecution of marijuana businesses in states with adult-use cannabis programs. The "Strengthening the Tenth Amendment Through Entrusting States (STATES) Act" would amend the Controlled Substances Act to except violators who are nonetheless compliant with state law. Perhaps more impactful, it would ease banking restrictions that have plagued the marijuana industry. (Almost all federally insured banks refuse to accept deposits from companies that traffic in a controlled substance, regardless of their compliance with state law.)
Rep. Earl Blumenauer (D-OR) and Rep. David Joyce (R-OH) are sponsoring a companion bill in the House.
When asked about the STATES Act June 8, Trump said, "I support Sen. Gardner, I know exactly what he's doing, we're looking at it; I will probably end up supporting that, yes." Trump made that statement in his typical "press conference" fashion, shouting to reporters as he walked to his helicopter.
These are extraordinary comments from a president whose Attorney General, Jeff Sessions, deems marijuana "only slightly less awful" than heroin and has advocated for full federal enforcement against marijuana producers, users and traffickers. Sessions had also recently revoked an Obama-era Department of Justice policy that would protect state-legal marijuana schemes from federal enforcement, and he's reversed Obama-era restrictions on funding private prisons. In other words, this is an AG who wouldn't mind seeing all marijuana users locked up – for profit, if possible.
Locally, this aggressive attitude toward marijuana enforcement is echoed by Deschutes County Sheriff Shane Nelson, who has been vocal about his desire to cease further permitting of marijuana businesses. Nelson cites federal law as the reason for his aversion to legal marijuana businesses, as well as complaints from some rural residents over "livability" in areas where marijuana is produced. Nelson and the Deschutes County DA both attempted to pin down the location of all medical grows, but were turned away by the Oregon Health Authority, which cited the Health Insurance Portability and Accountability Act in doing so. Luckily for locals in the cannabis industry, Shane Nelson isn't a sworn federal law enforcement officer.
Hostility toward the industry isn't confined to law enforcement, either. In a recent Deschutes County Commission board decision, at least one county commissioner opposed approving a marijuana production application because the commissioner deemed the odor-control device insufficient to avoid "unreasonably" interfering with neighbors' "use and enjoyment of their property."
The proposed odor-control device in question complied with all mandatory requirements spelled out in the Deschutes County Code: (1) a highly detailed report on the device was submitted with a mechanical engineer's stamp; (2) it used alternative, state-of-the-art technology to scrub odor from the building; and (3) the device was rated to handle odor in a building with double and triple the cubic-footage in which they were actually proposed to be used.
What's more, the mechanical engineer himself testified at the Board hearing to confirm the technology's worthiness for odor-control.


"I support Sen. Gardner, I know exactly what he's doing, we're looking at it; I will probably end up supporting that, yes." —President Trump

tweet this
Despite this seemingly (and literally) airtight representation for how a proposed indoor grow would mitigate odor, one of the commissioners, whose experience and expertise on the subject is decades and volumes shy of that held by the expert, felt that the expert's opinion and the proposed device was inadequate to meet the plain language of the statute. Nothing other than ideology can explain such a naked disregard for the county code by a county commissioner.
There is no sign of this opposition to marijuana grows decreasing. On June 13, county employees proposed rule-changes that would outlaw marijuana production in "Mixed Use Agriculture" zones, and effectively ban production within a half-mile of Redmond, and other cities or towns that have "opted out" of recreational marijuana businesses.
In short, the hostility toward the marijuana industry spreads far and wide up the echelon of power.
Perhaps now, the federal cannabis lobby may have the beginnings of a fatal, legislative blow to federal prohibition in states where the voters have spoken otherwise.
As for the Executive Branch, we may ask: Is Trump's support genuine, or is he merely petty enough to stick a finger in Sessions' eye over his recusal in the Russia probe? Who knows?
Or perhaps, cannabis entrepreneurs may counter, who cares?
Jeremy Dickman is an attorney in Bend with experience representing the cannabis industry.