If you like cheese with your spaghetti—and by cheese, I mean a campy cowboy movie— then Spaghetti Western Wednesday at Tin Pan Theater may be for you. The concept is an all-you-can-eat spaghetti dinner, including Caesar salad and garlic bread, paired with a Spaghetti Western movie for $10.
Adding to the thrills: You don't know what movie will play until the film starts.
What's a Spaghetti Western?
The Spaghetti Western, for those not in the know, is a subgenre of Western films that emerged in the mid-1960s in the wake of Italian director Sergio Leone's filmmaking style and international box office success. The term was used by film critics in the U.S., because most of the Westerns were produced and directed by Italians or filmed in Italy. Over 600 were made between 1960 and 1980. Clint Eastwood starred in three of the most popular of these films.
Pro Tips: Be early, dress warm
It took me two attempts to get in to this event. The doors open at 5:30 pm and it's first come, first serve. When I arrived at 5:30 pm we were four people shy of a seat. The next time I arrived at 5:15 pm, dressed warm so I was comfortable waiting outside in the cold, and got in. Most of the time they sell out.
I went with my friend Dee, a Spaghetti Western vet. When we made it into the theater from the crisp winter air I was embraced by the intimacy of the theater. I think the 28 seats and the screen in the Tin Pan Theater would fit in my townhouse family room!
The kitsch is strong here, too. My cider was delivered to me in a cowboy boot glass and I was handed a big white ceramic bowl. The boot was on point and an unexpected nice touch.
At the self-serve, large silver restaurant pans, I took a scoop of Caesar salad—romaine lettuce with a light coating of dressing. Next, I piled naked spaghetti noodles onto my plate. Some of the strands stuck together like it was a block of dried ramen. I ladled red tomato sauce on top of my noodle pile and picked up a slice of garlic bread. Before I left I shook grated Parmesan cheese onto my pasta—the kind of cheese you find in a bottle known for Parmesan fraud and wood pulp inclusion. It actually made my plate seem a little fancy, like it was sprinkled with Parmesan dust by Turkish chef Salt Bae.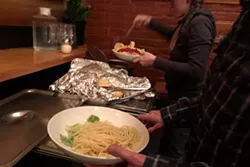 I would rate this meal a solid two stars. It tasted like pasta night in the average American household. The sauce might be Ragu; simple and a little sweet. Nothing was awful but nothing was great. I was starving so I was quite happy; the pasta hit the spot.
The movie this night was "White Comanche" with William Shatner, listed as one of the 100 most enjoyably bad movies ever made in "The Official Razzie Movie Guide" by John Wilson. The movie is about twin brothers, both played by Shatner, who are half white and half Comanche.
Johnny Moon is the "good" brother who's embraced his white side. The "bad" brother has accepted his Comanche background and leads war parties. His addiction to peyote makes him think he needs to attack the white population.
My favorite part of the movie was when an injured man arrives into town on horseback and no one knows what happened to him. A guy in the audience chimed, "It was probably the spaghetti!" Laughter ensued. True to spirit of the events, the movie was amusingly bad, but the night was fun.
Tin Pan Theater owners Esme and Micah LaVoy say they started Spaghetti Western night because, "We wanted to start a weekly event during the dead of winter that gave the locals something fun but low-key to do midweek. We had no idea that it would be this well received and look forward to it every year!"
Spaghetti Western Nights at Tin Pan Theater
Wednesdays through March 28
Doors at 5:30pm
869 NW Tin Pan Alley, Bend
541-241-2271