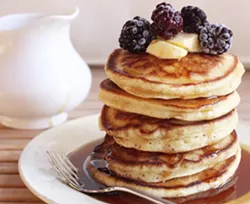 Gluten-intolerant people, rejoice!

Josie's Best Gluten Free Mixes offer three different products so you can make delicious breakfasts at home. This is great news because making gluten-free pancakes, crepes or waffles at home calls for ingredients you don't always have in your pantry, such as xanthan gum.

With Josie's Best Gluten Free Mixes you mix in milk, eggs, and vanilla. The mixes are produced at Prep Bend, and their office is in Redmond. You can order online or find them at Locavore. They'll make a great gift for your gluten-free friends.
Josie's Best Gluten Free Mixes