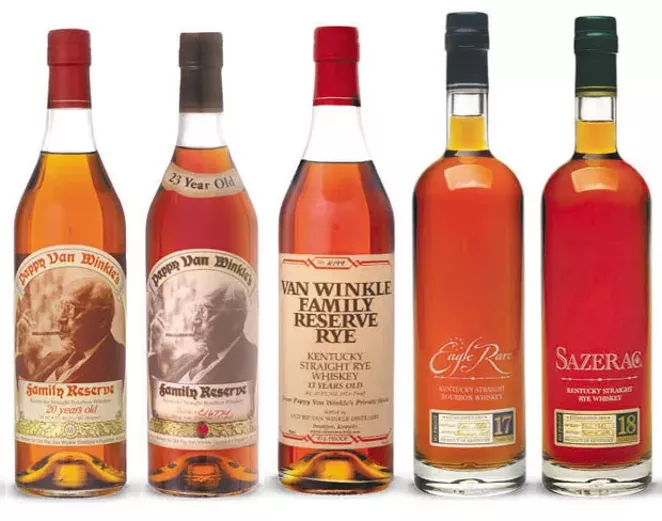 Mostly wood flavors with hints of caramel, ripe apples, cherries, tobacco and chocolate to start and a long-lasting finish of sweet caramel. That may be as close as you ever get to tasting a 23-year-old Pappy Van Winkle's Family Reserve Kentucky straight bourbon whiskey. Production is very low for the beloved spirit; Oregon received three bottles this year—for the entire state—but a recent change may make it easier for you to be the one to get one.
Pappy Van Winkle has a cult-like following. Listen to Alton Brown interview Julian Van Winkle III on "The Alton Browncast #15" and you'll hear the usually serious Brown act like a fan boy. Brown was 51 when he recorded the interview and said he was on several lists, in the low 400s, to get bottles of Pappy Van Winkle. He didn't expect a bottle until he was 63. It gave him something to look forward to.
Rarity in old whiskey is partly due to low production, but the angel's share, or the amount of alcohol lost to evaporation in porous oak barrels during aging, is also significant. According to Camper English's blog "Alcademics," a barrel of Pappy Van Winkle 23-year-old starts with 53 gallons. After 23 years, approximately 14 gallons are left. That's almost an 80 percent loss of whiskey.
Rare whiskey and bourbon aren't limited to Pappy Van Winkle. The Oregon Liquor Control Commission regulates the distribution of other rare bottles, too. Included this year is one bottle of Eagle Rare 17-Year, two bottles of Sazerac Rye and six bottles of Thomas H. Handy Sazerac.
Previously it was very difficult to get a rare bottle in Oregon, but an announcement by the OLCC is aimed at making the process more equitable. You had to figure out which liquor store in the state received the bottle and then inquire with that store on how they planned to award the bottle.
"We've been asked by many customers to establish new methods of distribution, such as a public drawing," said OLCC Director Steve Marks. "I'm pleased the Commissioners granted us this authority, as it will allow the maximum number of Oregonians an opportunity to purchase these very highly sought-after products."
Your chance to enter the public drawing to purchase from the Pappy Van Winkle and Buffalo Trace Distillery Antique Collection is happening now until Sunday, Dec. 2 at 11 pm. For full details, the list of rare bottles and to enter, visit the OLCC website. You have to be over 21 and an Oregon resident to enter. Winners will be announced the week of Dec. 2. May the odds be ever in your favor!
Oregon Liquor Control Commission
503-872-5020
oregon.gov/OLCC/Pages/ ChancetoPurchase.aspx