The Commons and Mt. Bachelor are partnering to bring life to the Mirror Pond Plaza during the winter months. The Apres Ski Bash concert series is all about bringing the community together through local live music, dancing, food/drink and bundling up outside.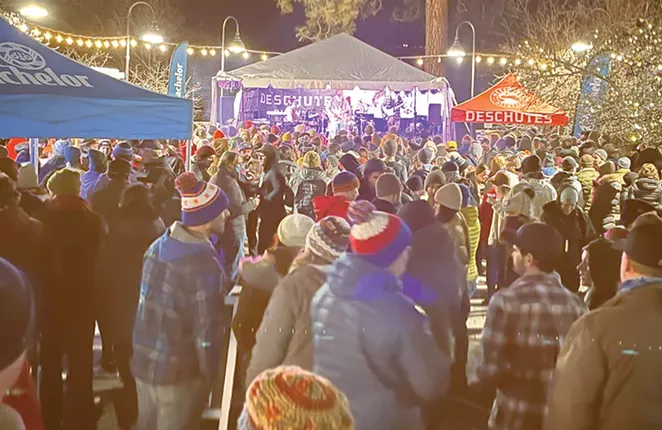 With four concerts lined up, the Apres Ski Bashes resemble the energy of a block party. Eventgoers can warm up by the bonfires, grab drinks, join the live music dance party, walk around and mingle or simply enjoy the energy of the night. It is an event for everyone.
"Show up, wear your puffy and get ready to dance. It's high-energy music," said Dan Baumann, owner of The Commons Cafe and Taproom.
Baumann and Parallel 44 worked together to host different genres, but attendees can expect some sort of jam band. Whether it's funk, bluegrass, rock, soul or electronic, every show is a little different, but a dance party is expected.
"The lineup this year is really solid," Baumann said.
Tha Exchange is kicking off the concert series this Friday, Jan. 13. This band brings together funk, jazz, hip-hop and soul with an upbeat spin. Tha Exchange is sure to bring a groovy dance party.
The second show on Jan. 27 will feature Watkins Glen, a local '70s rock and jam band. Family Mystic will take over the stage on Feb. 17 with funky tunes. The final show will be the Quattlebaum Quintet bringing its bluegrass tunes on March 17, St. Patrick's Day. Attendees can purchase beer from the Deschutes Brewery beer cart, snag a few tacos from El Sancho's setup, sip on warm hot chocolate or coffee from The Commons and explore the tents set up along the perimeter of the party. Mt. Bachelor season pass holders can flash their pass to get $1 off drinks before 8:30pm.
Apres Ski Bash Concert Series
Jan. 13, Jan. 27, Feb. 17, March 17, 7-10pm
The Commons Café and Taproom