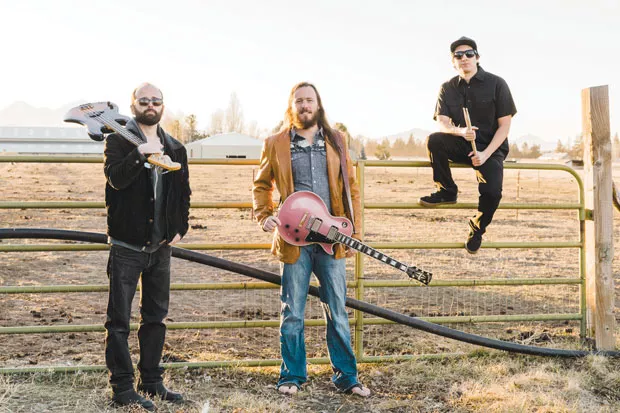 Eric Leadbetter may be one of the hardest-working musicians in Central Oregon, performing nearly every day each month. Because he performs solo, as a duo and as a full band, Leadbetter thought a rebranding was in order. Leadbetter founded the popular rock band Jive Coulis back in 2004, deciding to rebrand as the Leadbetter Band, with a moniker that people would recognize, whether he's performing with the full band or solo.
"It gives it a little more cohesiveness," Leadbetter says of the new name. "It's been nothing but fun times with Patrick (Pearsal), and Dylan Bernal is the drummer. It's been fun to take a new approach to the music. It's still a power trio. The Leadbetter Band is just more of a rebranding of that same mentality, being the songwriter of the band, because Jive Coulis was my brainchild. That's four albums we did and I wrote all those songs."
Leadbetter says the band has enough material for two new albums. Step one: recording at least one of them. He views songwriting as a type of therapy, writing a song as his own personal psychology. He loves grabbing an emotion or an experience and writing a song about it.
"It's the medicine, right? It is for everybody," Leadbetter says. "That's why people show up to the shows, it makes them feel something—rejuvenated, healed. It helps me get to share what's in my heart and get rid of the baggage we as humans carry."
His creative process begins with the lyrics. Listening to and performing his songs, he knows exactly what he felt in that moment.
"Music is the story of my life," Leadbetter says.
Leadbetter started Jive Coulis when he lived in Colorado, continuing after moving to southern Oregon. He relocated to Bend two years ago because the band played so many shows here.
"I love the overwhelming support of all the other musicians and the incredible open arms of the city to live music," Leadbetter says of the Bend music scene. "And the awesome music that the town brings here. There are so many people fighting for it."
Through the summer the Leadbetter Band will be on tour throughout Oregon, including stops in southern Oregon, Mt. Hood, Hood River, and of course, at venues across Central Oregon.
Favorite firework?
"I like the ones that are kind of orange and white and they have the streamers falling down."
Best 4th of July memory?
"Playing with Jive Coulis at Worthy, and we were playing as the fireworks got going."
Essential 4th of July food?
"We're playing at the Bite in Tumalo from 3 to 5:30pm and then at On Tap from 7 to 10pm. We're doing the food cart tour so, I'm probably going to have a Kobayashi dog from The Bite and lengua tacos from Barrio at On Tap."
Why should people spend their July 4th with Leadbetter Band at On Tap?
"At On Tap, we're going to be at the base of Pilot Butte. We're going to put on a great show for everybody. It's going to be an awesome view of the fireworks. Everyday we play together, we love it more and more. It feels like we're going nowhere but up and I want people to be part of it, especially if you like rock 'n' roll."
Leadbetter Band
Wed., July 4. 3-5:30pm
The Bite
19860 7th Street, Tumalo
No cover
Wed., July 4. 7-10pm
On Tap
1424 NE Cushing Dr, Bend
No cover