From 2006 to 2010, 24 people died in car crashes in Bend. Compare that to just 2 deaths in Corvallis during the same time and you have the impetus for a renewed effort by the city to make streets safer.
The city is hoping to find the funds to provide more guardrails, more signage, more striping and more police to bring down our relatively high crash rate. To see where these accidents are happening most often, have a look at this data collected by the city on where crashes occur in Bend. 3rd Street is by far the most problematic artery.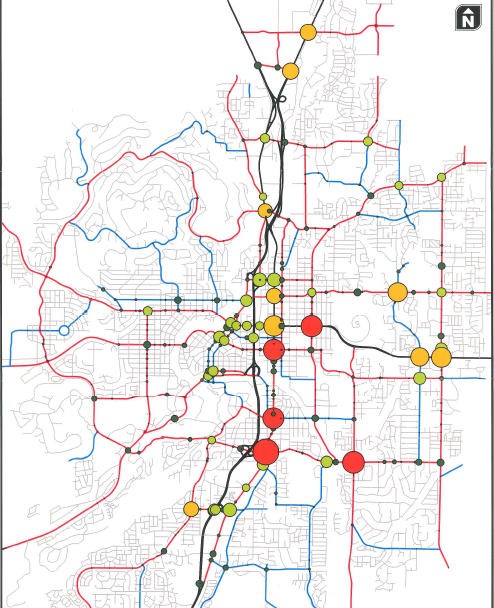 The larger the bubble the more crashes occur at that location.
These crashes are no little thing—not only are we seeing more deaths here than elsewhere, the cost of these crashes is enormous. From 2006 to 2010, the roughly 3,654 car crashes in Bend cost just shy of $220,000,000 in medical bills, car repairs and fixes to damaged city infrastructure, according to a recent study conducted by the city of Bend.
The majority of our crashes are caused, not unsurprisingly, by alcohol, drugs and speeding. But there were a few other strange little elements to our high fatality rate. About one third of the deaths between 2006 and 2010 involved a biker or a pedestrian, according to the study.
Bikers at night going the wrong way and pedestrians crossing multiple lanes of traffic were some of the more significant issues with these kinds of crashes.
Councilors will continue to consider how much cash the city can devote to cutting down on crashes through more policing and roadway improvements. In the meantime, first steps are getting more traffic cops on the streets (who currently bring in $700,000 to $800,000 a year in traffic fine revenues, p.s.) and immediate action to add stop signs or more striping for the worst intersections in town.