What a change of pace!
Blue Pine Kitchen and Bar, an eclectic new restaurant that offers small plates, snacks and siders of all origins and a mile-long drink list, is now open for business in the former Players Bar and Grill location on Century Drive.
Players had a seedy reputation, and although well loved, the long standing bar wasn't the kind of place where you would order a $30-50 bottle of wine, sit down for a fancy meal, or expect to order a plate of frog legs.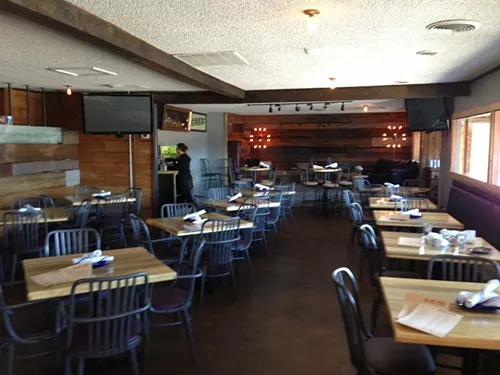 Here's the bar turned dining room now.
All that's different now with Blue Pine's eclectic menu, put together by Matt Neltner, former chef at Deschutes Brewery. The formerly biker-clad ambiance has been replaced by wood paneling and an old saloon style piano on the stage, a welcome change from the Keno machines that used to decorate the dark late-night bar (loyal patrons fear not, the machines are still there, just hidden in the back).
The expanded bar is bigger and better than ever.
Blue Pine has a completely different vibe injected with some class and delicious meal options, but is still open late on the weekends for the bar going types. We're looking forward to trying out some of tasty sounding menu options. Here are some of the anticipated highlights:
Lavender Crab Risotto
Lavender scented risotto with Dungeness crab and linguica sausage. $15.
Tangerine Dream
Seared halibut cheeks with roasted pork belly over green and orange lentils with a tangerine buerre blanc and asparagus salad. $16.
Frog Legs
Grilled Creole frog legs with garlic aioli. $13.
Sezchwan pickled MusselsPickled mussels with wasabi creme friache and sweet soy sauce. $4.
Sloppy Joe
Ground boar with peppers and onions in a rich tomato sauce on oregano French toast. $12.
Burbon Filet Mignon
All natural grilled filet with a bourbon, rosemary sauce, shoestring french fries and vegetable. $28.
Blue Pine Kitchen and Bar
25 SW Century Dr.
Tue - Thu: 11:00 am - 12:00 am
Fri - Sat: 11:00 am - 2:00 am