After finishing second in Rome this weekend cyclocross racer Katie Compton achieved what no other American—man or woman—has ever done. She won the World Cup Overall.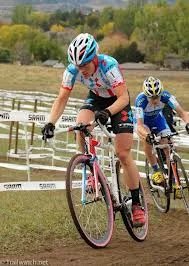 cyclingnews.com
Katie Compton
This is a big deal (If you don't believe me, see this website for evidence).
Cycling, and 'cross in particular, has long been a Euro-dominated sport. Aside from Lance (who, by the way, now seems poised to admit to his cheating ways so he can continue racing triathlon and such) Americans have struggled on cycling's grandest stages. Recent American performances, however, are evidence that U.S. racers are stepping up their game.
This 'cross season, Jeremy Powers finished seventh in Tabor, Czech Republic—the best-ever World Cup result by an American man. Young racers are also making the U.S. relevant on both the road and the dirt.
This is good news for American cycling, especially in the wake of so many doping controversies and negative press.
Compton will continue to crush, but we may not see her anytime soon, as Nationals is in Madison, Wis. this year. And there is still World Champs...
One of the last times Compton was in Bend was 2010 when she won what was her seventh National Championship in 'cross. The last couple of years she's skipped out on the USGPs in favor of World Cup races abroad.