If you're looking for some holiday fun for yourself or the entire family, be sure to check out the new addition at the High Desert Museum.
On Nov. 17, they opened the new E.L. Wiegand Pavilion. Cathy Carroll, the museum's communications and promotions manager, expressed that they named the facility after the Reno-based foundation who awarded them the grant.
"A significant grant of $250,000 allowed us to make our performance space much more high-tech, warm and cozy," she said.
The pavilion will have an adjustable window system that can stack together to create a more intimate experience with the outdoors for members and guests.
It will also have new audiovisual, lighting and backstage enhancements for programs.
From Dec. 26 to Jan. 5, the brand-new pavilion will present a new program called Survivor:Animals Adapt. You will experience the tenacious grip of a tree-climbing porcupine, the keen hearing sense from a stunning barn owl and a visit from the fastest animal in the world—a peregrine falcon. Be sure to check out these fascinating adaptations on display later this month.
Looks cool..Go check it out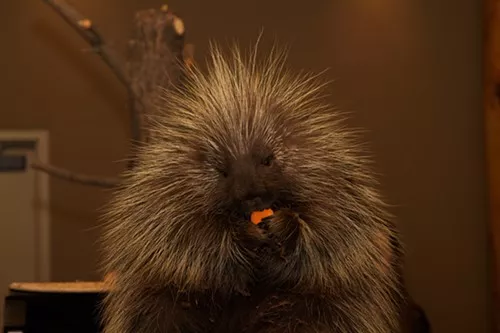 House of the Rising Quills
It hears dinner...Watch out!