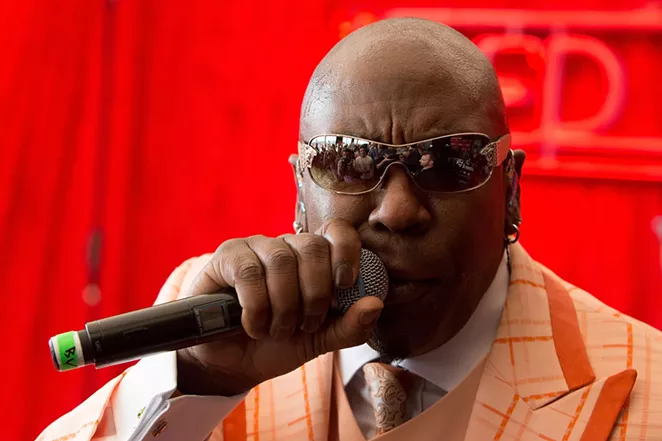 Seattle musician Wanz (AKA Michael Wansley) went from software test engineer to performing on
Saturday Night Live
in a matter of months. The life-long musician was hired by Macklemore and Ryan Lewis to sing the hook for the breakout hit, "Thrift Shop," a job that Wanz took without much thought, but ended up being the biggest break of his life. We caught up with the singer/songwriter about the Seattle music scene, his craziest experience since blowing up alongside Macklemore and #TheBookofWanz. Wanz will perform at
Alive After 5 in the Old Mill District with Hit Explosion this Wednesday, July 30, 5 pm.
Source Weekly:
Tell me about what you were doing musically (and non musically) in Seattle before you were approached by Macklemore and Ryan Lewis for the "Thrift Shop" hook?
Wanz:
I had been working as a software test engineer since 2000 at Microsoft up till 2011, then at a small medical software company. Musically, after almost 30 years of being in various bands, I was playing bass in a blue-eyed soul band once or twice a month, making beats on my laptop during commutes to work and teaching myself the recording process a bedroom of my apartment.
SW:
How did your life change after "Thrift Shop" hit it big? If you could go back would you do it again? What has been the craziest experience you've had after the success of the song.
Wanz:
Well, life became a little surreal! For someone who'd never traveled much, all of a sudden I was on a bus going around this country and others...all from one song!! Would I do it all again? LOL!! OF COURSE!! The success of "Thrift Shop" granted me wishes, answered prayers and dreams I'd had since I was in single digits!!
SW:
What has been the craziest experience you've had after the success of the song?
Wanz:
Hmmm, the craziest experience I think would be one show we did in Beirut, Lebanon last year. There were two different gigs, one and outside stage like at a county fair, the other a club on top of a building. The first show was divided down the middle. Over 18 on one side, under on the other. 20,000 people!! We couldn't get out of the venue because people were slapping their hands on our transport bus!! The second gig was even more surreal. The building was behind a row of huge concrete blocks, like it was fortified. Inside we took an elevator to the top floor and performed at a club...like one you'd find in midtown Manhattan! It was just weird that in a city where a brand new building stands next to a burned out, machine gun holed, blasted up one. Very strange.

SW
: How does your solo material differ from the hooks you've done for other artists? Are you releasing any solo material soon?
Wanz
: Take a listen to the "Wander" EP and you'll see where I was in 2008-2010...hip-hop influenced beats with smooth lyrics and harmonies. Today with "To: Nate Dogg", you have a throwback 90s G-Funk feel. My blessing and curse is that I've very diverse in musical background. I've done a hip-hop hook for a French artist Ridsa (Family) and my friend Big Jess in Minnesota (Glass Half Full). I've also been writing trap and rap beats experimenting with putting pop or R&B lyrics over the top. Who knows, I might put a trap beat under a Rascal Flatts tune next, muahahahahahaha!!!
As far as solo material, I've been meeting with different producers here in Seattle looking for a good fit and good songs. I'm looking to release a solo effort next year. For now, I'm looking to get on a couple of features, release a dance song and re-release a Christmas song I recorded last year.
SW:
Tell me about the Book of Wanz?
Wanz:
#TheBookOfWanz was the idea of Andrew Joslyn, string arranger on
The Heist
. He and I were old friends when all this started and traveled together when I came on the tour. My father was known for his pithy sayings and I had adopted some of my own (You had to get from that to get to this and you'll have to go through this to get to that...whatever 'that' is.). Andrew heard me say one and said, "You should tweet that!". I did. He then suggested I tweet more sayings like it, maybe put them in a book..."#TheBookOfWanz!!" and that started it. A year later, I searched out all of the phrases and am going to try and get the book published this fall.
SW:
You've spent a lot of time in the Seattle music scene, how have you seen it grow and change over the years? How has the scene changed for you after your recent success?
Wanz:
Seattle has always had a very vibrant scene. Different genres in different sections of the town, different age groups...there's helluva lot of really good music, dance, art, theatre and poetry here! I think since the success of Macklemore, hip-hop has had the most exposure. Artists such as Grynch and Raz Simone are but tips of a very big iceberg!
SW:
If you could choose any person to sing a hook in one of your songs, who would you choose and why?
Wanz:
I dunno if I'd want someone to sing a hook on my song as much as I'd like to do a duet with a few artists. Adele (of course), Ledisi, Anthony Hamlton, Tony Bennet, King's X are but a few artists I'd like to sing with. If I could have any one wish granted though, it would be to construct and record a song with Quincy Jones and Rod Temperton. Those two are responsible for Michael Jackson's hits and I've been a fan of each of them for decades. I think it would be cool to do a project with them and call it, "Som'n From The Old Guys", hahahaha!!!