The 2013 Cyclocross National Championships kick off in Madison, Wis. next week and at least four Oregon junior racers will be on the start line.
The long trip to middle America might not have happened for the youngsters. But thanks to a local business, the little leg-breakers are making the trek, as each of the four junior racers received a boost in the form of an $800 travel stipend.
On the Friday before December's USGP races in Bend, Sports Performance Powered by Bowen hosted a CXMas party fundraiser, featuring local and visiting 'cross pros, local 'cross photography and beer and snacks. Powered by Bowen also hosted a 'cross race fundraiser in September in Bend, Future Cross, to further assist the young racers' goals.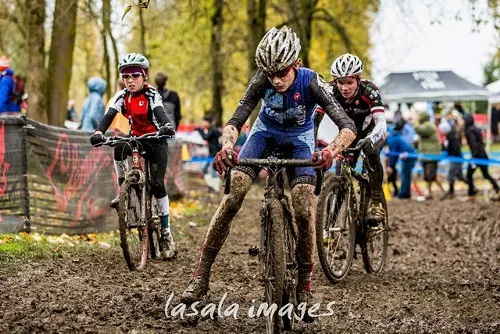 Matthew Lasala, lasalaimages.com
The financial help is good news for Lance Haidet, Donovan Birky, Gabrielle Lehnert of Bend and Sam Rosenberg of Eugene. All four have spent time at the front of their respective races and are no strangers to the podium.
This season, Haidet (a ninth grader) won his age group on both days of the USGP races as well as the Oregon Junior Cyclocross Series. Birky (an eighth grader) was second at the state champs and won the Psychocross Series in Eugene. Lehnert (a sixth grader) won her state championship race as well as the Junior Cyclocross Series. Rosenberg (15 years old) finished second at the Junior Cyclocross Series.