In another shot across the bow of The Oregonian, Oregon's largest community newspaper group has purchased six more newspapers in Oregon, five in the Portland area.
The Pamplin Media Group now owns 24 newspapers in Oregon, including The Madras Pioneer after the Jan. 8 purchase of the six newspapers from Eagle Newspapers, Inc. The move by Pamplin intensifies the company's competition with The Oregonian, which has reportedly struggled in recent years. Check out this August 2012 article from Willamette Week on rumors of The Oregonian pulling back publication days.
The move may also mean the company has plans to expanding further into the Central Oregon market.
The company also owns two radio stations: KPAM, a an AM right wing talk-radio station out of Troutdale, and KKOV, an AM station broadcasting in Vancouver, Wash., that plays adult standards like Frank Sinatra and big band music.
Dr. Robert B. Pamplin, Jr., is the owner of the Oregon media conglomerate.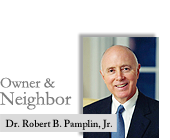 portlandtribune.com
The owner of Pamplin Media Group.
An author, minister, University of Portland professor, and successful businessman in the sand and gravel, textile and farming industries, he is something of a Renaissance man.
In Oregon, his reach is long.
Expansion of his media holdings is something to watch, particularly the move into the Central Oregon.