Fire Season Off to An Early Start
About 3:30pm on May 8, the Deschutes County Sheriff's Office gave people in the Lazy River subdivision north of La Pine a Level 3 (go now) evacuation notice, due to a quick-moving brush fire that started from a backyard debris burn.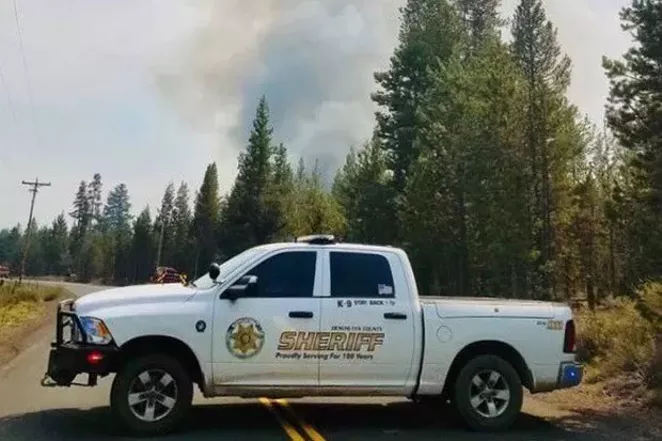 The fire burned about 12 acres and destroyed one home, but no people were injured, according to the DCSO.
The Oregon Department of Forestry wrote on its website that the unseasonably warm, dry conditions over the past week increase the risk of fire growth at a more rapid rate that ODF has seen so far this spring.
The road closure on Bridge Drive at Otter Drive was reopened as of 7:30pm on May 8 and the evacuation notice was lowered to Level 1 (be ready), according to a release from the DCSO. – Chris Miller
PSU President Rahmat Shoureshi Forced Out
Rahmat Shoureshi is stepping down as Portland State University president after 21 months at the helm.
He spent the last few under intense scrutiny, sparked by stories from The Oregonian/OregonLive that questioned Shoureshi's treatment of staff, his spending habits and his overall approach to the job of running one of Oregon's largest universities.
Shoureshi's resignation letter, made public Friday, doesn't mention the controversy, nor does it mention the university's board of trustees, which had met repeatedly in recent months to discuss whether to continue working with or force out the president they'd hired. – Rob Manning, OPB
Oregon Shakespeare Festival Receives $4.5 Million from Warren Buffett's Sister
The Oregon Shakespeare Festival has received a sizable gift from a California donor as it prepares for a leadership transition and another volatile summer.
Roberta Bialek Elliott has given $4.5 million, to be used any way the Festival sees fit. Elliott is the sister of Berkshire Hathaway magnate Warren Buffett.
Paul Christy, acting executive director for the festival, said the gift was meant to ensure that OSF's artistic work is matched by its operational capacity.
"We've grown extraordinarily over the last 10 years — by some measures we've doubled in size and budget," Christy said. "We haven't always matched that growth with structures underneath." - April Baer, OPB