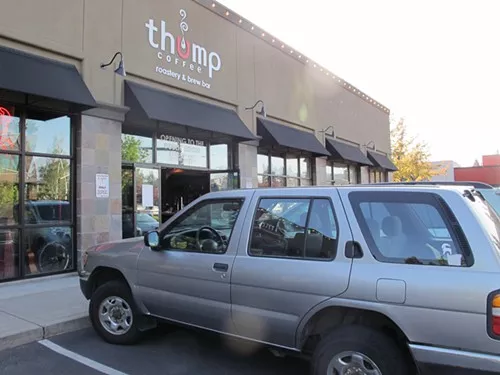 The Thump Coffee roastery and brew bar at NW Bond St. and NW Franklin Ave. isn't open to the public yet—maybe soon, though.
A new sign popped up recently in the shopping center at NW Bond St. and NW Franklin Ave. next to Amanda's Mexican Cuisine. It reads, "Thump Coffee: roastery & brew bar."
The sign's a bit misleading, though. The new Thump location isn't a place to grab a cup of coffee—yet. Thump's general manager Dan Baumann said, however, they've been roasting at the location since January.
"We have people stopping in everyday looking for a cup of coffee," he said, adding that there's a misconception about Thump's cafe about a block away at 25 NW Minnesota Ave. closing. It won't.
Baumann said that the company's still trying to figure out how to make the new location a proper tasting room—one without flavored lattes—so that customers can swing by and sample freshly roasted wares (beans are coming in from across the globe: Central and South America, Ethiopia, the Congo, Burundi, Kenya and Indonesia).
"We don't really have (a timeline for opening the tasting room)," Baumann said. "We're working on furniture...as far as the cafe and brew bar portion, it's still in development."
Originally, Baumann said, Thump's roasting was taking place out on SE Wilson Ave., where 11 Roasters is located. But this downtown location will enable Thump to try different roasts on different coffees.
And that sounds delicious.