Deschutes County Commissioners rejected a proposal to designate Worrell Park, a 1-acre downtown park, as an area of special interest. Last month Deschutes County Commissioners reversed a plan that would have redeveloped the park, chipping away at some of it, to increase the number of parking spaces in anticipation of a courthouse expansion.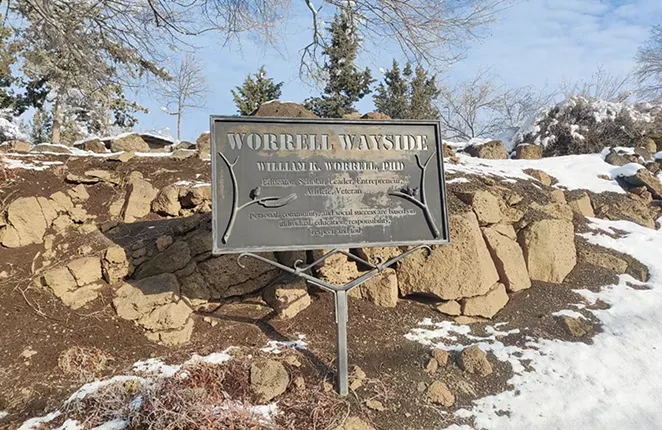 "Areas of Special Interest," in Bend city code, are identified as important features that are intended to be preserved. Donna Owens, a recent appointee to the Bend Park and Recreation board of directors, submitted three requests to the commissioners: to allow a group of residents to apply to make Worrell Park an area of special interest, to create a master plan for Worrell Park and to create an operating plan for Worrell Park. Applications for new areas of special interest can be submitted in January of odd years.
"Time is critical for the ASI process and we realize this is likely not a high priority for the County. We are committed to stepping up to volunteer to file the application with your support; additionally, to work with your staff to develop a Worrell Wayside operating plan for 2023 assuming you will welcome our offer to adopt Worrell Wayside," Owens wrote in her request to commissioners.
County staff noted there's an irrigation system in parts of the park, which could make it ineligible as an area of special interest. Commissioner Tony DeBone noted that an ASI typically has geological features that aren't present in the park. Both DeBone and Commissioner Phil Chang said they're prioritizing other projects and that it could divert staff from higher-priority projects.
"I'm pretty lukewarm about this package of requests. I greatly appreciate the community concern for Worrell Park, it motivated us to revisit our parking needs and parking analysis and we decided not to do anything with that park right now. In my mind, that's the work we needed to do around Worrell Park and I don't want to use staff resources," Chang said during the commissioners' regular meeting on Jan. 11.
Though they didn't accept the proposal, commissioners did say they'd be willing to engage in a discussion with BPRD about potentially trading the park to the district — though clarified it'd have to be pursued by BPRD rather than the county.
"That could even result in Worrell Park taking less of our precious staff time to manage and deal with, but I am concerned about the impacts on county resources for something that I'm not seeing as an urgent project," Chang said.