You might know the acronym, NIMBY, standing for "not in my backyard," but its antithesis is probably lesser known. A YIMBY, or "Yes, in my backyard" supporter runs in opposition to anti-development groups who don't want apartments or low-income housing built in their neighborhoods.
The Source Weekly sat down with two YIMBYs to get their take on the movement.
"The thing that made me create the website originally was when—we hadn't been here too long and we realized it was difficult to find a house even if you have a good income," David Welton, who created the Bend YIMBY webpage, told the Source over lunch. "There's a shortage [of housing] and I saw that the proposed COCC (Central Oregon Community College) apartments got killed. It's like you have a shortage of housing and you're not building it, you know, that's a problem."
Fellow YIMBYer Byron Buck says, "There are criticisms out there that YIMBYs are shills for developers," he adds. "We're all just individual citizens with an interest in having a strong town—develop a strong, vibrant, integrate one with lots of choices. To me, that's the story here. There's a new voice out here that's been absent from the typical developers-versus-the-neighborhood-versus-the city triad."
On the Biggest Issues facing Bend
"From the YIMBY point of view, housing affordability is a big issue," Welton said. "The thing that got me interested in doing something locally is, that when my wife and I decided to move back to the United States, we looked real closely at Boulder, Colorado. You know, it's got a lot of similar amenities to Bend—it's not too big, it's got a lot of outdoor stuff—but the average house price these days is upwards of I think $7- or $800,000. And that's a problem for people that don't have a ton of money, and I think even if you do have the money, it starts to be an issue of, well, what's that look like for your community? You know, the people teaching your kids have to drive in an hour from out of town. That's not real healthy."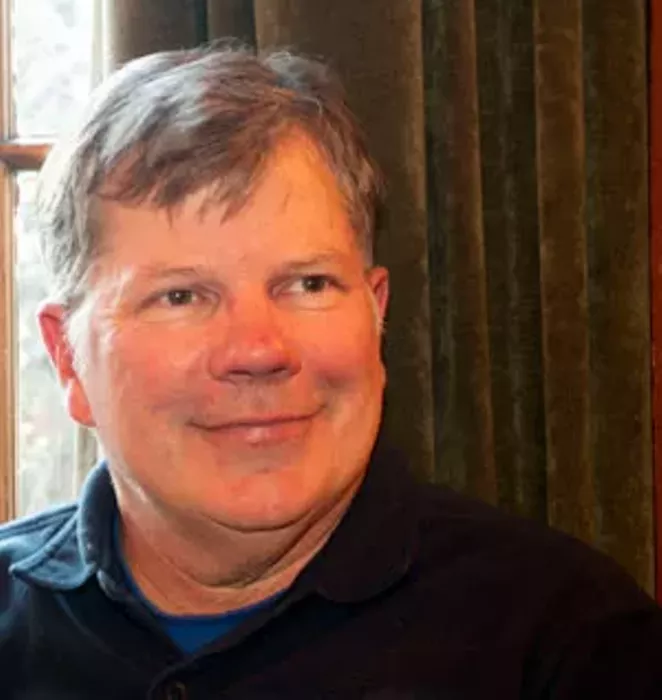 Buck adds, "It's managing growth with an eye toward affordability and a mix of community incomes, lifestyles and jobs that keeps it on an integrated, sustainable basis," he said. "Instead of becoming one of these elite, narrow towns, where anybody that's making less than $100,000 a year is commuting 40 minutes to come here."
Currently, the Bend YIMBY Facebook page has 107 members, but its message is gaining ground. Recently, 1000 Friends of Oregon reached out via Facebook, and plans to attend the April 30 meeting, along with Bend's Mayor, Casey Roats.
Transportation Issues
"It's a challenge because the city got behind the curve on maintenance and you get behind the curve it's very hard to catch up," Buck said. "The city's not going to be taking two lane roads and making four lanes out of it—it's just not going to happen. So, to that extent, they need to be making sure the infrastructure's following along with the development in the right places. And what infill can do is take advantage of those places that already have an existing grid, take the system development fees and put them where it's needed and those places are going to put less of a burden on the overall transportation system. So again, it's an integrated transportation-housing equation."


Welton adds, "It comes back to the idea of placing things that you need close to people," he said. "It means that some people will be able to walk or bike—and even those that drive can—if you have kind of everything you need on a day-to-day basis [close], then maybe you'll still drive. I'm not against that, I think everyone in the [YIMBY] group has cars, cause there's [so much to do] in Bend."
Is the City Doing Enough?
"I think the City, in terms of the staff, I think that a lot of them get it," Welton said. "I think most of the City Councilors get it, in maybe kind of having different angles on the problem, but the problem ends up being a lot of times when a project gets killed by neighborhood opposition."
Adding to that, Buck says, "And I think we're there trying to support the councilors and the City staff that are trying to do the right thing," he said. "Absent those voices, the loud voices are the ones that the politicians naturally have to respond to, so to have them recognize there's a constituency for them to say, 'Yes apartments, multifamily in the right places, the right times is a good thing.'
"Instead of the constant refrain of, 'No, not here, put it somewhere else, put in on the east side.' Which they have and you get an oversupply in one place and that's an imbalance as well," Buck said.
Bend YIMBY says the way to keep Bend affordable is to add more housing. According to its website, this can happen in a few ways: expand the urban growth boundary, which happened last year, construct taller buildings—not skyscrapers—but more two-, three- or four-story buildings and filling in existing space, like the new urban renewal areas the City Council just announced they'd support.
Zoning Law Changes
"That's something that a lot of places in the U.S. are facing," Welton said. "You look at cities that have grown for hundreds or thousands of years, where you get kind of this denser core. And sure, there are people that live outside [of the city], we're not anti-rural. People are farmers, people have the money and they're more than welcome to their large house wherever. But that style of growth of a city where it was built up incrementally and when there was enough density, maybe someone would open a corner store nearby because there was clientele for it, and we've kind of—we kind of went from that model, which you can see in downtown Bend and the surrounding area, to this plan-it-all-out and build it to a finished state, where it's not supposed to change or adapt anymore. It's all it's ever supposed to be, but you need some adaptability in cities, which are too complex a system. You can't plan it perfectly."
Going further, Buck says, "You look at the great places of the world, the great cities of the world—this country and others—and the most vibrant places are the places that grew organically," he said. They weren't complete planned unit developments. Now, some of that's nice for a lot of folks—who want this here and I've got my own self-contained world—but they're not very vibrant and they don't necessarily allow for change and adaptation. So you're seeing the inner rings of a lot of cities are moving back and those are the vibrant places now that the stuff on the outskirts is lots of times, that's where values are declining. So, the model may be changing. I think people still want their own dwelling, but I think there's a big enough group now that doesn't view that as a 2,000-square-foot ranch on a half-acre with a riding lawnmower."
So, what's the ultimate solution, or mindset?
"Perfect's the enemy of good," Buck said. "You're never going to have perfect—we're not talking about trying to create nirvana, or anyone's version of nirvana, but to have more choices, and the fact that somebody can ride their bike or walk, that's one less car in front of you on the road."