Editor's note: The title in the online version of this piece has been amended from the print version, changing "bipartisan" to "partisan." We regret this oversight in word choice.
Ideally, the battle against the effects of climate change would be fought both on the local and national levels. But barring action by the latter, we can't forget the impact the former can have.
In October, the Intergovernmental Panel on Climate Change released its report outlining the consequences of rising global temperatures, stating that limiting warming is not only feasible and affordable, but also necessary to protect the planet. The IPCC report stated that without action, people will face increasing impacts, including heat waves and limited water supplies. That report goes in line with the National Climate Assessment released Nov. 23, which stated that the U.S. is already experiencing the negative effects of climate change, including crop losses, lost labor and extreme weather damages. One need only look at the widespread damage done to entire towns in California this month—in November, not July or August—as an example of what "extreme weather" can do. These are not problems that can be fixed by admonishing locals for not "raking the forest."In another report published Nov. 15 by Oregon State University, researchers showed that the forests of the east Cascades—as well as the forests in Rocky Mountains and in the Sierra Nevada range—are expected to see increasing impacts and more "forest mortality" as a result of climate change, including droughts and wildfires. Add in the fact that Bend was ranked #8 in a recent Pyrologix study of the 100 Northwest cities with the highest cumulative risk of wildfire, and it should be obvious that this is an issue that does indeed hit close to home.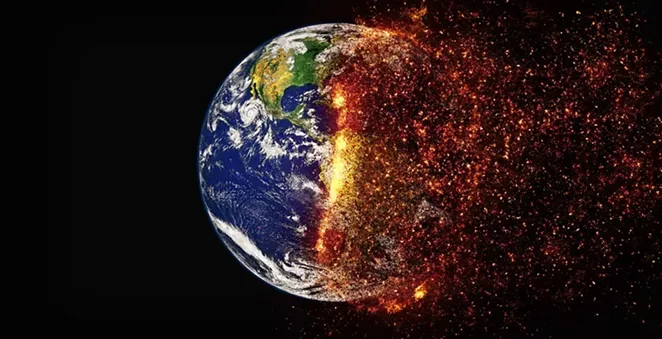 Unfortunately, efforts at the federal level are likely to continue to be stymied by a president who can only be characterized as a human-caused climate change denier. Efforts to mitigate climate change are out there, but they're not typically met with bipartisan support.
Last week, Sen. Jeff Merkley (D-OR) made two moves in the interest of curbing the effects of climate change, including introducing a resolution—signed also by Sen. Ron Wyden (D-OR) and 23 other Senators—that urged immediate action to address climate change in light of the IPCC report. Merkley also introduced new legislation that calls for the U.S to transition to 100 percent zero-emission vehicles by 2040.
Not a single Republican signed Merkley's resolution.
That's unfortunate, because addressing the human impacts of climate change should not be a partisan issue. When we look back upon the challenges facing people of our time, the issue of climate change will be the biggest, by far. We have hope that a more Democratic House of Representatives will bring more accountability and action around the subject of climate change. But with the federal government unable to move its gridlock at the present time, it becomes even more important for local governments to act and find ways to address climate change impacts locally.
Case in point: The City of Bend's transportation goal to reduce vehicle miles traveled. While others in the community have derided the City for that goal, stating that it's not in line with the way people in the city behave, it's still a goal to be pursued. Transportation contributed 28.5 percent of greenhouse gases in 2016, according to the Environmental Protection Agency—the largest share by sector, with electricity at 28.4 percent, mostly from burning coal and natural gas. In that vein, it's irresponsible for a city, in establishing policy, to do anything BUT make an effort to reduce vehicle miles traveled. Along those same lines, it's irresponsible for a city government to do anything BUT make moves to reduce its energy consumption, as the City of Bend has done. Some of those moves may be uncomfortable and may make local residents feel put-upon or dictated to—but any move in that direction is a move toward reducing impact. If local efforts were enough to stem the tide of climate change, to keep our forests healthy and help us avoid the calamity of a city-wide wildfire, we may never have to feel the more-uncomfortable feeling of having to lose our homes or to fight local wars over water resources.
It's tempting, during a time when our national leader seems so averse to taking action, to throw up our hands and admit defeat, but we don't buy the notion that scientifically valid information has to be partisan. We don't buy the notion that all of the action has to be initiated nationally, either. While placing—or maintaining—regulations on energy and industry would have a greater impact than the efforts of one or two small Central Oregon cities, it doesn't make us immune to action.
Taking a look at how and why communities use water—including how they issue water rights—will become a bigger issue moving forward, one that will require us to look beyond the standard allocation of water rights, however "historical" those rights may be. Forest stewardship in the form of planting drought and heat-resistant trees and in the examination of forest thinning should be explored. In the City of Bend, planning to reduce the negative effects of climate change and looking at ways to further reduce our impact should be part of the equation. With a larger proportion of environmentally aware councilors recently elected to the Bend City Council, we hope these issues will be met with the gravity they deserve. Too long have the issues of climate change and our local impact been underestimated and treated as side projects. Looking south to Paradise, Calif., we should understand how quickly and devastatingly the effects of climate change can hit home.