80% of Canadians are vaccinated against COVID-19. Fortunately for them, Canadians aren't culturally hobbled by a large minority of anti-science, religious fundamentalist flat earthers forcing their foolish faith into law, the way cancel culture conservatives have traditionally attacked American democracy with their nonsense and baseless bigotry.
For the most part, Canadian truckers are lucky enough NOT to have the same well-earned awful reputation that Deep Southern redneck American truckers have here stateside, where being a trucker is generally thought of as your low-IQ racist White Trash man's way of attempting to commit statutory rape on a daily basis. And don't even get me started on the Teamsters and their reputation! Anyone find Jimmy Hoffa yet?Furthermore, a full 90% of Canadian truckers are already vaccinated, but that didn't prevent a small, far-right faction of fat fascist Canadian trucker twits (who make the late John Candy look svelte by way of comparison) from taking their trucks, Nazi swastikas, and Confederate flags to Ottawa to harass its innocent residents by honking their truck horns all night long like the hate-filled honkies they really are.
No wonder fascist Fox "News" converted their soulless selves into Trucker Tantrum TV for the past several weeks. Not only are 21st Century Fox Republicans irredeemably stupid and racist, they hate Canada! While of course at the same time these right-wing Republitards can't stop themselves from performing figurative fellatio on Russian dictator Vladimir Putin for all the world to see on Fox TV. GOP = Greedy Old Perverts.
P.S. Donald Trump is going to prison.

— Jake Pickering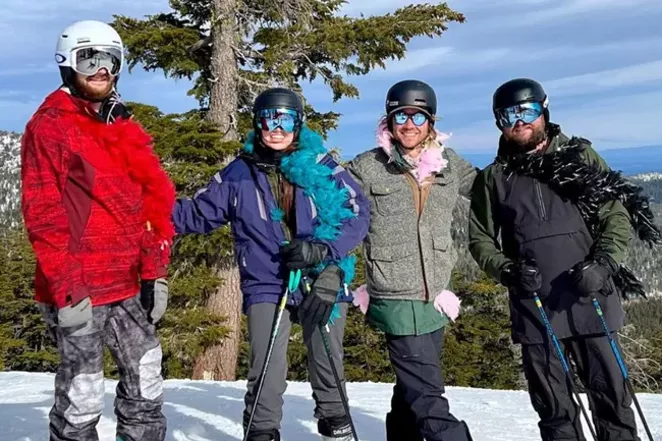 Jamie McLeod-Skinner for Central Oregon
Considering the recent piece in the Source on water and voting (Jan 27), and the disturbing record of Oregon's U.S. Congressional District 5's Representative Kurt Schrader on water (Feb 11), I see the far better choice in the May Primary Election is Jamie McLeod-Skinner.
Constituents of the new Congressional District 5, which now includes much of Central Oregon, can choose Jamie to replace Schrader in just a couple months. With expertise in hydrology, civil engineering, water law and public service, and with no financial ties to oil and gas or pesticide corporations, her positions are based in wise natural resource stewardship and the safety and health of people.
Jamie takes ZERO donations from Corporate PACs.
Schrader's funding primarily comes from corporate interests. Shockingly, only $14k of the $517k he raised in the 2022 election cycle was from within ORD-5. It's clear who Schrader represents, and who he doesn't represent. Schrader votes for legislation that benefits water-polluting industries, that aligns with the policy agendas of his industrial campaign donors (including Koch Industries) and that aligns with his personal stock portfolio.
We say ENOUGH. CD5 constituents, Oregonians, and the nation, need healthy waters, environmentally ethical representatives, and strong leaders to protect our resources: We need Jamie McLeod-Skinner as the new U.S. Representative for Oregon's 5th Congressional District.
—Nancy Boever
RE: The Doubt We Sow When We Appoint Politicians Opinion 2/10
To avoid the appearance of political favoritism in the appointment to a vacant councilor seat let the voters decide. Until a City Charter change, a council seat vacated by election to mayor (as in 2020) should go to the next highest vote getter in the council election, no matter the position for which they ran. At least the voters would have had a chance to vet the person, unlike a political appointee.
And, yes, a new charter review please. The last bipartisan one recommended four wards (needed) and two at-large councilors plus an elected mayor. We're only part way there. Minimally we need to eliminate "hold-my-council-seat-in-case-I-lose-my-mayoral-run". Resign from the council to run for mayor.
—Nancy Prosser via bendsource.com
RE: Time to Bring Back the Community Town Hall Opinion, 2/17
Megan Perkins's Drake Park meeting proved to me that this city is crying out to see and hear, in person, our elected councilors as well as the City Manager and the Chair of the Planning Commission. Hiding behind controlled Zoom meetings is not governance; it's hiding! Just like "Hide and Seek" that we played as kids...
—William Gregoricus via bendsource.com