Wolves: In Response to David Horn (1/11)
Wolves perform an important function in large wild ecosystems, but it's wrong to imply that they only prey on the weak and sick. Wolves are opportunists that often kill some of the largest and healthiest animals in a population.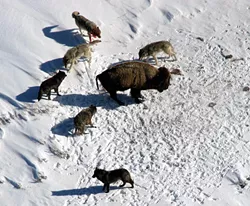 It's also wrong to accuse sportsmen of "violating healthy selection by killing the best, thus weakening the population." Well regulated sport hunting restricts the harvest to ensure that the fittest in the population continue to pass on their genes. Since the early 1900s this conservation strategy has saved elk, mule deer, pronghorn, wild sheep, black bear, whitetail deer, wild turkey, moose, and many other species from the brink of extinction. Today, all these populations are heathy, and most are either stable or growing.
It's encouraging to see wolves expanding their range. They help make wild places more truly wild. But perpetuating the notion that humans are bad for the environment and wolves are good misrepresents the role both species play in nature.
—Ed Putnam
On Immigration
Last week on CNN, a Representative Connelly(D) was interviewed about the DACA program. He defended the legalization of over 800,000 individuals and supported the possibility of them bringing thousands more to the US through chain migration. Then he was asked about 200,000 Salvadorians who were given temporary sanctuary in the US because of an earthquake that devastated their country a few years ago. He thought they should also be able to stay in the US and be granted citizenship. This is all on top of the 50 or 60,000 Syrians that the Obama administration worked to bring to the US a few years ago.
When you hear one of our political leaders say "We are a nation of Immigrants," or "that is not who we are as a nation," beware, as you can be sure they are looking for ways to add several thousands more to our population, usually to secure more voters for their party, or cheap labor for their contributors.

tweet this
Unfortunately, there will always be wars and earthquakes and we cannot take in thousands of individuals from overpopulated countries each time they occur. Congressional Democrats and, many Republicans, seem to have no concept that there are ecological limits to how many people can be supported by a particular environment. When the Statue of Liberty was constructed we had a population of 57 million in the US. now, we have over 325 million and are rapidly climbing to 350 million. Overpopulation is clearly the source of most of our environmental problems, including global warming.
When you hear one of our political leaders say "We are a nation of Immigrants," or "that is not who we are as a nation," beware, as you can be sure they are looking for ways to add several thousands more to our population, usually to secure more voters for their party, or cheap labor for their contributors.
—J. William Bryant
Opposition to Measure 101 is a Scam
The Big Lie: The people of Oregon decided to weigh in on what had already been passed.
The Hidden Truth: The petition campaign to put Measure 101 on the ballot was organized by politicians whose campaigns are funded by special-interest groups, like pharmaceutical companies, largely responsible for healthcare's high cost.
The Despicable Lie: This is all about being fair to taxpayers.
The Awful Truth: It is about serving the ambitions of a couple of politicians. It raises Julie Parrish's profile as a "go-to person" for special interests wanting to bypass the legislative process. It creates financial problems candidate Knute Buehler can blame on Kate Brown.
The Magnificent Lie: Even if it passes, federal agencies could refuse us matching funds.
The Blessed Truth: The federal government already approved those matching funds back in October.
The Believable Lie: If this passes, insurance companies will pass on their 1.5 percent assessment by raising their prices.
The Incredible Truth: If 101 passes, insurance rates will remain stable. If it fails, prices will go up. They are willing to pay this 1.5 percent assessment to insure themselves against having to pay high medical costs they can't afford. This frees many to offer policies in under-served counties. Oregon's present reinsurance plan has already lowered insurance rates by 6 percent.
The Simple Lie: If this passes, hospitals will make up for their 0.7 percent assessment by charging patients more.
The Complicated Truth: Hospital charges do not determine what we pay. By cobbling together payments from Medicare, private insurance, and Medicaid, which Measure 101 extends to those who could not, otherwise, afford the care they need, Oregon has been able to stabilize the insurance market and keep medical costs down.
The Horrible Lie: If Measure 101 is defeated, the State will be able to make up loss of funding, so no one will be affected.
The Dismal Truth: There is no Plan B to make up a loss of $5 billion in matching funds. If Measure 101 loses, we all lose.
—Gregg Heacock
In response to "Yum! Expansion brings more Holm Made Toffee" (1/11)
I have watched you since the beginning of your business and can't tell you how happy I am for your success!!
—Genevieve De Corpo Byrnes, via facebook.com
In response to "Pumping your own gas: We will persevere" (1/11)
And don't forget those sanitary wipes while you enjoy pumping that fuel for yourself—remember it's flu season and you never know who touched that pump before you!
—Rick Johnson, via bendsource.com
In response to "New Year, New Ideas" (1/8)
We already have a water park! It's called the Deschutes River!
—Gramma Jean, via facebook.com
Councilor Moseley, true to form, once again throws the rest of us under the buses he doesn't think we should have.
—Barb Campbell, via bendsource.com
The housing crisis in central Oregon is not only a matter of limited building activity. The regulatory processes of the state and city restrict the supply of available land. However, there are also processes that locals can implement to counter this strait jacket. There are two places that have large residential areas that could stand greater density, but are currently prohibited. Deschutes River Woods and Deschutes Junction could vote to become cities. The change in zoning may allow for ADUs immediately and much higher density when a sewer system is installed. This could stabilize the supply of available land. Even if this political move proved unsuccessful, it would demonstrate to the state that their regulations are choking the low income residents of Bend and we're serious about doing something about it.
—Tim Breeden, via bendsource.com
Letter of the Week
Tim, all sounds good—you getting on that soon? Lemme know when you get it sorted out; I'm looking for some place to park my future tiny house. For the moment, come on in for your gift card to Palate!
—Nicole Vulcan, Editor