I
n addition to voting on who will be Oregon's next governor and who voters want for Bend and Redmond leadership positions, a number of measures were on the ballot this year, both locally and in Oregon state.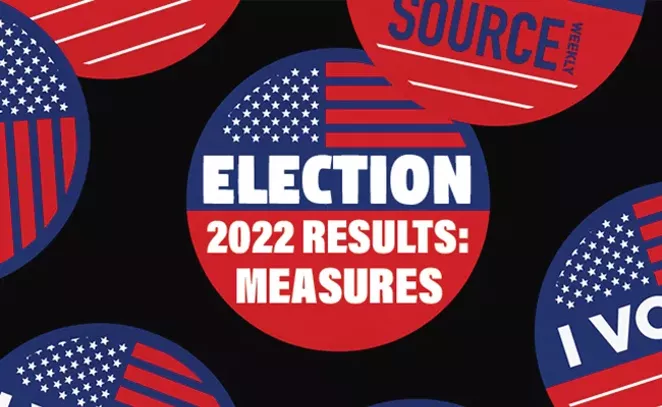 These are the most up-to-date election results from the measures on your ballot in 2022:
Updated as of 5am Wednesday
Deschutes County measures

9-148
Make county commissioner seats in Deschutes County nonpartisan
Yes: 61.06% - 57,928 votes
No: 38.94% - 36,949 votes


9-152
Psilocybin manufacturing and service centers in rural Deschutes County
Yes: 43.69% - 42,417 votes
No: 56.31% - 54,660 votes


9-155
Bend-La Pine Schools bond

Yes: 59.24% - 39,450 votes

No: 40.76% 27,145 votes
Redmond measures
Measure 9-150: Bonds to Construct New Community Recreational Facility to Expand Programs
Yes: 51.48% - 11,540 votes
No: 48.52% - 10,876 votes



Measure 9-151: Five-Year Operating Levy for Park and Recreation Services
Yes: 39.80% 8,836 votes
No: 60.20% 13,366 votes




Measure 9-153: Declaring a Prohibition on the Manufacture of Psilocybin Products
Yes: 56.75% - 8,033 votes
No: 43.25% - 6,123 votes




Measure 9-154: Declaring a Two-Year Moratorium on Psilocybin Service Centers
Yes: 53.66% - 7,494 votes
No: 46.34% - 6,471 votes
Oregon state measures

Measure 111: Amends Constitution: State must ensure affordable healthcare access, balanced against requirement to fund schools, other essential services.
Yes: 49.92%
No: 50.08%
Measure 112: Amends Constitution: Removes language allowing slavery and involuntary servitude as punishment for crime.
Yes: 54.82%
No: 45.18%
Measure 113: Amends Constitution: Legislators with 10 unexcused absences from floor sessions disqualified from holding next term of office.
Yes: 68.01%
No: 31.99%
Measure 114: Requires permit to acquire firearms; police maintain permit/firearm database; criminally prohibits certain ammunition magazines.
Yes: 50.75%
No: 49.25%
L
ooking for results that are not listed here? Find the results for state and local candidates on our
Candidate Results
page. For other races, see the
Deschutes County Clerk's elections
page.