Dear Every Other Skater on the Ice:
So sorry to put you through this.
Please forgive me as I grab wildly for one of your limbs while suddenly dropping straight-down from an already precarious standing position to one where I'm splayed out on the ice like a helpless toddler—and yes, I know toddlers have an excuse. After all, they just mastered walking.
Me? Although I have decades of solid walking experience on the books, it's not helping at the moment. Neither is the fact that all of you make this skating thing look so easy. I can tell you it's not. At least not at the beginning anyway. Right now, it feels like I'm having my recurring advanced calculus final exam dream again. The one where I never showed up to class.
Uh-oh! Excuse me, madam!
Yes, you, the one (temporarily) smiling and laughing and having all sorts of fun. Seems I'm about to fall right into your path. In a matter of seconds, my clumsiness will cause you to execute an acutely difficult turning maneuver while experiencing a somewhat unhealthy blood pressure spike.
Wow, good form on that, and apologies for your "fight or flight" reflex kicking in on rather short notice! No need to check on me. I'm sure my new health insurance will take care of nearly 18 percent of the ligament damage. No, you just go on your merry way, gliding smoothly around the rink while I carefully remove the ice crystals from my molars.
Hope you're all having a great time out here this morning. After all, it's the Sunday half-price "Family Skate" session at The Pavilion, where two hours of skating plus rental comes in at a tidy $6 per person. Hope you're enjoying your perfect winter day before a grown man (looking to save $6) comes crashing into it. Sorry to make everyone else pay for my attempt to stay within my monthly "recreation" budget. Whoops! Look out, kind sir.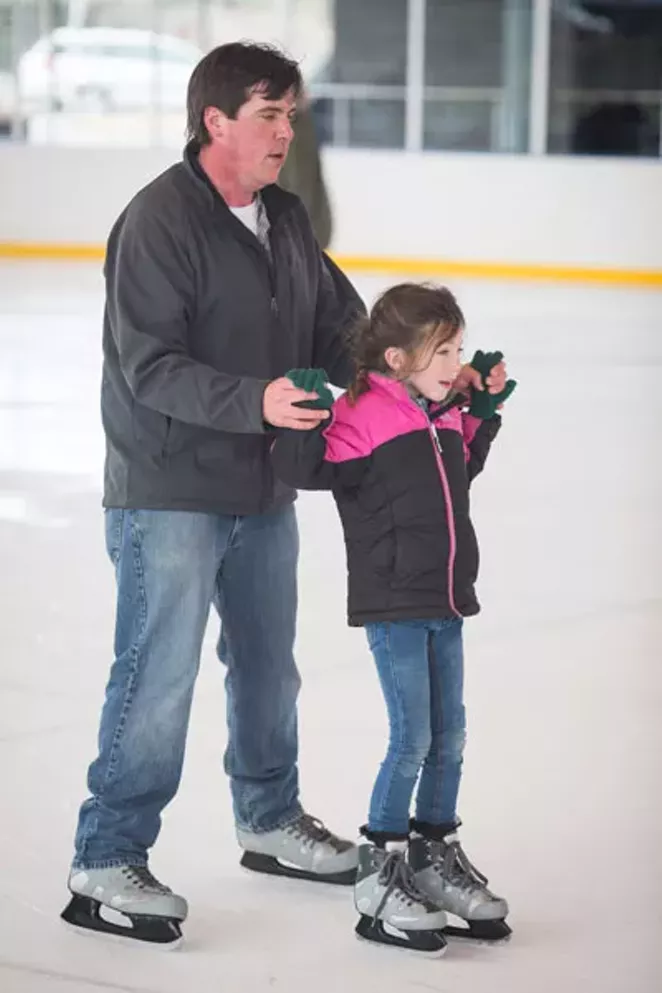 Yes, I know, your four-year-old son's darn cute out there, pushing around his little traffic cone they use to help keep the kids upright. Yes, he's having an amazing time. I understand he'll probably remember this wonderful childhood moment for years, if not decades to come. Unfortunately, I'm about to enter his life, bumping into him, causing him to lose his delicate balance and careen softly into the side boards, cone and all. Sir, I would gladly stop to help, but figuring out how to stop is not something I can exactly Google at the moment.
Apparently, skates don't come with brakes, which now that I think of it, might make for a nice informative sign right above the skate rental counter. I generally have to stop my forward motion by screaming and plowing into something, which, with any luck, doesn't have a pulse. Yes sir, I'm glad your son's recovering nicely—and heartfelt sympathy for his temporary trauma. Won't happen again.
Well, at least for a few minutes.
Attention everyone! I've decided to take a short break. No need for the applause, I can sense the relief on the ice. If you all must know, here's what happened. This fall, I was assigned a story on Bend's youth hockey leagues. That's when I came up with the idea of learning how to skate. After all, here were kids not only skating, but also gracefully carting around a hockey stick and firing pucks into the net from all angles. How hard can all of this be, I mistakenly thought.
Besides, skating looks so effortless, fun and carefree when done correctly. This is the perfect activity to enhance both body and mind, soaring up and down the rink on chilly Bend mornings, deep breaths, your spirit in mindful harmony.
Ha! First of all, to a beginner, the skates feel like strapping lead weights on your feet. The first few sessions on the ice are spine-janglingly treacherous. To those who happened to see me hugging the side boards with the intensity of someone who just found his long-lost puppy, you could probably tell I was in for a rough time.
Ok, break's over. Yes, everyone, I can hear you shrieking in abject horror. Now then, does anyone know where they keep those little traffic cones?
Yours truly, Howard.