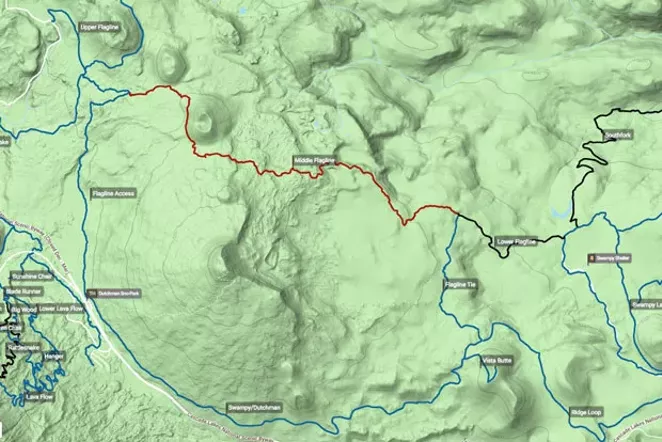 Flagline Trail consists of three sections in the upper ramparts of Bend's mountain bike trail system, exploring the Alpine environment of the High Desert. Ripping downhill sections through old growth forest, quaint meadows and creek crossings give Flagline a uniquely Alpine feel. Upper and Lower Flagline, and the Flagline Tie trail, are used to skirt around the closed Middle section until its late summer opening. Besides the melting out of winter snows on all Central Oregon trails, no other section opening is met with as much intense anticipation among the dedicated mountain bike syndicate than Middle Flagline.

FIND IT: Ride Upper Flagline from Todd Lake via FS 370, by using the Flagline Access, or by connecting with the Metolius-Windigo trail from the north. Middle Flagline connects via Upper, Met-Win or from Dutchman Flat. During closure of Middle, or for a less technical ride, take the Dutchman/Swampy trail to the Flagline Tie connector that climbs the gap between Tumalo Mountain and Vista Butte.
RESPECT IT: Middle Flagline is closed to all user groups until Aug. 15 each year for elk calving protection (and presumably the protection of humans from being attacked/trampled by protective females averaging 700 pounds). The mommas and calves need recoup time. Riders or hikers—with or without dogs—may disturb and distress them during this important time. Be a steward. Ride elsewhere until Aug. 15.
RIDE IT: You can accomplish many options for out-and-back or loops of various distances, or try the coveted shuttle from Bend to Mt. Bachelor. Loop from Dutchman or Skyliners Sno-Park. Try out and back from Swampy Lakes, or link Flagline with Swede Ridge/Upper Whoops and Phil's for a day to remember and a well-deserved malted beverage.