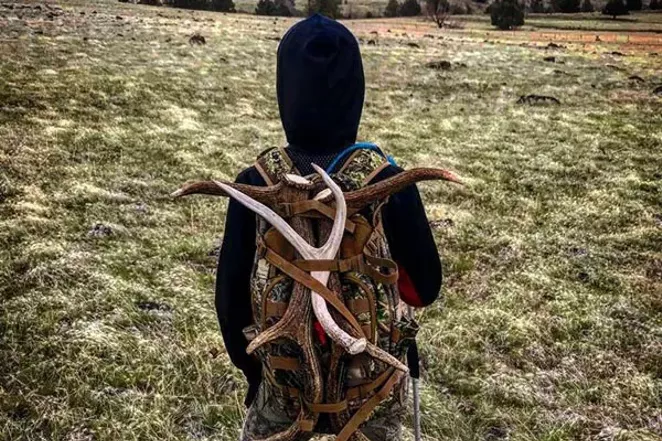 It's becoming one of the more popular outdoor pursuits in regions where deer and elk herds thrive. In late fall, winter, and early spring, these animals seek lower elevation ranges that provide safety, shelter and food before migrating back to richer summer range.
Deer seek lower ranges than elk, generally, where snow isn't as deep and where they can move more freely. They consume natural and nutrient-rich food sources such as red brush, a form of bitterbrush that sustains them through the winter season. And, they shed their antlers.
As a result, the act of shed hunting has become quite popular, especially among hunters who study deer habits and migration patterns that may help them scout animals during the fall hunting season. It's also an activity that can be pursued by anyone who likes to get outdoors—especially during the cooler seasons. For some, it's more than a hobby; it's an obsession.
Lifelong hunter and conservationist, Thom Smith of La Pine, along with his son, Cody, admit to the obsession. They hunt antler sheds almost every weekend during the winter and spring. The piles of antlers at their home are evidence of their success.
"It's what we love to do. During the week, we think about it a lot and we can't wait to get back out and see what we find the next go-around," says Smith, who figures his son Cody will rack up 300 to 400 miles in search of antlers this year.


"If it comes to a point where the Oregon Shed Hunters and ODFW and others can't prevent degradation, we would stand behind some regulations for the protection of the animals." —Rob Tanner

tweet this
Researching animal behavior is a top priority. "It's 100 percent a part of this," says Smith. "You can't help but learn about their habits, behaviors and food sources. That helps you become a better hunter and makes you love it enough to want to conserve and protect it."
Rob Tanner of Redmond also shares a passion for shed hunting. "When we stumble upon an antler, it's fascinating to know that a deer or elk was standing in that spot when it fell."
Tanner helped form a 7,000-member Facebook group called Oregon Shed Hunters in 2005. "From that point on, it's been like a big Easter egg hunt for adults."
OSH's Troy Capps, of Terrebonne, says hunting sheds is an opportunity for family and friends to share time outdoors. "We can hike all day long and not find anything and have a great time, or we can find 30 sheds in a day. It's just getting out there, seeing the country and the animals."
Each year, the Oregon Shed Hunters sponsor a statewide gathering in which participants spend a weekend searching for antlers. But, with that growing passion, Tanner, Capps and Smith are concerned about creating too much pressure on animal herds on winter ranges.


Regulating Shed Hunting
While other Western states have begun regulating shed hunting, Michelle Dennehy of the Oregon Department of Fish and Wildlife in Salem says Oregon doesn't have a need for formal regulation—yet.
"I'm not aware of any plans to formalize a shed hunting season, but we do have winter range closures at some of our wildlife areas, and travel restrictions in parts of the state known to serve as winter range, to try and minimize impacts to big game from shed hunting," she states.
Both Tanner and Smith concur with potential restrictions. "We want what's right for the critters. We've had this mission to educate people on the ethics of shed hunting. If it comes to a point where the Oregon Shed Hunters and ODFW and others can't prevent degradation, we would stand behind some regulations for the protection of the animals," says Tanner.
Smith agrees. "A shed season would 100 percent help. A lot of guys don't want to hear that, but it's the truth." Smith speculates formal shed regulations would prohibit antler hunting from January 1 to April 1, when critical winter ranging occurs and when antlers begin to shed.
Ethical Awareness
Whether there will be formal shed hunting regulation in Oregon depends on those who participate, according to the three hunters. Tanner says, "If you see where animals are feeding or bedding down, or hanging out, try to avoid them for the most part. Bumping them once is probably OK, but if you're continually going to the same area and bumping the same critters daily, that's not good. They don't have a lot of reserves to be running around and expending energy on avoiding people and vehicles."
Smith concurs. "If we do see deer, we really try to keep our distance. If we want to look at them, we have our binoculars. Give them their space." He also advises keeping dogs in check. But, Smith admits that people often don't do that. "High pressure does affect our deer and elk out here."
Capps of the Oregon Shed Hunters is hopeful that the state can avoid regulations. "If people do the right thing now, hopefully we wouldn't have to be regulated. But if they don't, we'd certainly support more regulation."
Central Oregon Daily's Brian Jennings produces "The Great Outdoors," on the air 6 pm Wednesdays on KOHD (ABC) and 7pm on KBNZ (CBS).