W
hen people leave Bend to stake their flags elsewhere, some take a twinkle in their eye, one that reflects time spent outside enjoying the high desert. For others, the Bend way of life rubs off on them, never letting them forget the Central Oregon way of life.
For Nathan Trautman, living in Bend for four years brought him to the rivers, where he waded into a love for fly fishing. Bend also inspired an idea that would lead to the development of a new kind of fly fishing apparel brand: Traut Co. (pronounced like trout).
Fly fishing runs in the Trautman family. "When I grew up, my grandfather was a fly fisher, and he made his own rods," said Trautman. "There were pictures of him with fish all over the house. That's kind of how I learned about it."
Now a Portland area resident, Trautman credits his time in Bend as the driver for creating Traut Co.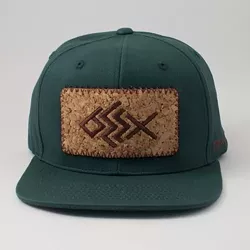 "It took me a while to figure out the name. My last name is Trautman, and I just couldn't get away from it," he said with a laugh. "When you have the last name Trautman, and you're trying to start a fly fishing apparel company, it makes sense to incorporate it somehow."
Trautman fondly recalls the waters outside of Bend, where he first learned how to fly fish using one of his grandfather's rods.
"One of my friends, who I skied with, took me out to the river and was like, 'You're going to get into fly fishing,'" he said. "I found one of my grandfather's old rods, and that's what I learned on.
"I immediately really liked the sport," Trautman said with a smile. "It took me about four years to become decent—and I don't even know if 'decent' is the right word—to be somewhat proficient in it."
What followed Trautman's newly kindled love for fly fishing was the need for gear. What he saw in various fly fishing shops didn't wow him; so much beige, so much of the time. Seeing a gap in the market for cool fly fishing paraphernalia, Trautman began to develop his own take on what fly fishing gear should look like.
Just say no to beige.

tweet this
"The whole concept started with the logo. It's the first thing I came up with." Trautman said. "There's enough of a demand for a different fly fishing brand, and the first thing I've gotta do is create a logo that embodies a younger generation, people crossing over from snowboarding and skiing and other more action sports."
Once the logo was locked down—a bold bone fish-esque line drawing, it was another two years of on-again off-again product development. The hurdle was finding the right factory to bring Trautman's first product to life: colorful flat-brimmed hats.
"I'm pretty happy with what I came up with. I think that it's been a good platform to build off of," he said.
Traut Co.'s first milestone passed this July with the official launch of flat-brimmed hats in Bend and Redmond fly fishing stores. Embracing the Traut Co. motto, "Just say no to beige," Trautman designed the flat-brimmed hats in four colorways, all embellished with an embroidered cork logo-slash-patch.
"Part of fly fishing is sticking your hooks into lots of different things, and chewing up whatever you stick those hooks into," explained Trautman. "Some of that is actually an appeal, it's kind of a prestige thing to have a chewed up hat on the river. I knew that if I figured out a way to design a hat that functioned with a pincushion on it, that people would use it and then it would be useful on the river."
For Traut Co.'s next product, Trautman hopes to develop a hybrid long-sleeved sun hoodie to keep fly fishers cool and out of the sun when on the river.
Traut Co.
Products available at Fly and Field Outfitters, Confluence Fly Shop, and The Patient Angler Fly Shop in Bend, and at Fin & Fire in Redmond.