This June marked the 17th annual Take Your Dog to Work Day. (By comparison, Take Your Daughter To Work Day started 23 years ago.) In Bend, however, that "holiday" is celebrated every day at some workplaces.
While the impulse may be a simple side effect of Central Oregon's fondness for canine companions, bringing pups to work has proven benefits. According to a 2012 Virginia Commonwealth University study, employees who brought their dogs to work had lower levels of cortisone, a hormone associated with stress. Conducted at a single company, the study found that workers who brought their dog saw an 11 percent decrease in stress over the course of the day, while their dogless coworkers experienced a 70 percent increase in stress.
Whether they know the benefits or not, many wish they could bring their furry friends to work with them. A survey by Wellness Natural Pet Food found that 48 percent of respondents would bring their dog to work if it were permitted. Younger folks were even more inclined—61 percent—to bring their fur children along to the office.
Attitudes vary widely on the appropriateness of bringing pets into a professional setting. But no one ever seems to ask the dogs what they think. We chatted with four shop dogs to find out what they like—and loathe—about working with the man.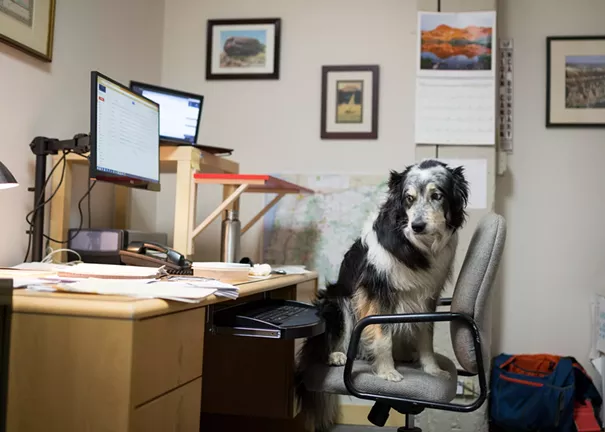 MADDIE—OREGON NATURAL DESERT ASSOCIATION