SHELTERS & RESCUES
Lead and Love Dog Rescue

Call for appointment

leadandlove.org

541-788-1406
Three Rivers Humane Society
1694 SE McTaggart Rd., Madras
Hours: Tues-Sat: 10am-5pm
threerivershs.org
541-475-6889
Humane Society of Central Oregon
61170 SE 27th St., Bend
Hours: Mon-Fri: 10am-5:30pm, Sat: 10am-5pm
hsco.org
541-383-3537
Brightside Animal Center
1355 NE Hemlock Ave., Redmond
Hours: Tues-Sat: 10am-5pm
brightsideanimals.org
541-923-0882
Cascade Canine Rescue East and West
65065 94th St., Tumalo
Call ahead, by appointment only
ccrewdogs.org
541-948-00097
Humane Society of the Ochocos
1280 SW Tom McCall Rd., Prineville
Hours: Tues-Sat: 10am-5pm
hsonokillshelter.org
541-447-7178
UPCOMING ADOPTION EVENTS
FRIDAY 7/27

BARK IN THE PARK

DOG DAYS
Beer, baseball and your best dog pal—what's more American than that? The Bend Elks invite you and your dog to sit in the bleacher seats for one night only, with proceeds benefiting the Humane Society of Central Oregon. Don't have a furry friend to bring along to the ball game? HSCO will be there showcasing animals currently up for adoption. 6:35pm. Vince Genna Stadium, 401 SE Roosevelt Ave., Bend. $7/GA.
WEDNESDAY 8/1
DOGUST THE 1ST
HAPPY BIRTHDAY RESCUES
Join Brightside Animal Center and their shelter animals for cake and festivities celebrating the birthdays of all the shelter and rescue dogs! Don't forget to bring a gift—the furry tenants put together a wish list including canned cat and dog food, beds, kitten milk replacer and cat litter, to name a few. Who knows—you may even find your forever friend! Noon-3pm. Brightside Animal Center, 1355 NE Hemlock Ave., Redmond.
SATURDAY 8/4
ADOPT A FRIEND
THRIFT STORE FINDS
Stop by the Humane Society of the Ochocos Thrift Store to meet new friends up for adoption! Leave feeling good that your thrift store purchases benefit the animals at the shelter—and perhaps with a new family member in tow! 11am-3pm. Humane Society of the Ochocos Thrift Store, 1495 NW Murphy Ct., Prineville.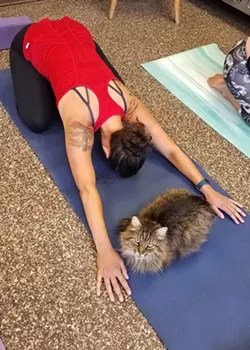 SUNDAY 8/12
CAT YOGA
NaMEOWste
You've heard of goat and dog yoga—now Brightside Animal Center is bringing cat yoga to their shelter! The cats at Brightside are ready to meet friendly yogis willing to spread some love—and possibly find them their forever home. For a small donation, you can hang with the shelter cats and practice yoga led by an experienced instructor. You may have to work around a cute ball of fur sprawled out over your mat—but it's all about the cuddles, anyway. 1pm. Brightside Animal Center, 1355 NE Hemlock Ave., Redmond. $10/suggested donation.